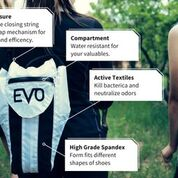 After more than a year of research and testing of several prototypes, we found the perfect combination of materials and science that completely eliminates the odor of smelly shoes once they are placed inside our high-tech shoe bag
New York City (PRWEB) November 07, 2016
EVO and Company, creator of the world's first combined anti-odor and anti-bacterial shoe carrier on the market, has launched pre-sales of Aercase on http://www.evoandco.com.
"We've received great feedback in pre-launch activities for our innovation that's designed to stop embarrassing athletic shoe odors from permeating areas like lockers, closets and cars," said EVO and Company President Rafael de la Vega.
Aercase, which contains an individual compartment for each shoe, uses activated carbon-cloth to absorb the odors and humidity coming from athletic shoes – along with silver-plated textiles that kill bacteria coming from the shoes. Aercase is made of high-grade Ripstop Nylon and Spandex, which makes it durable enough to be machine washed and dried hundreds of times without affecting its functionality.
The bag is designed to form-fit to different shapes of shoes, and includes a water-resistant pocket in the front flap to store valuable items such as car keys, smartphones and wallets. The black-and-white colored Aercase fits most low-top and mid-top athletic shoes up to size 12.
"With the design of Aercase, we created a product that features a stylish look that can fit seamlessly into the active lifestyles of people," De la Vega said.
The youthful Aercase Team, who are all younger than 22, came up with the idea through their own experience as students and athletes.
"As active people who are always involved in sports, we set out to solve the issue of smelly athletic shoes – a bothersome and often embarrassing consequence of our busy lifestyles," De la Vega said. "After more than a year of research and testing of several prototypes, we found the perfect combination of materials and science that completely eliminate the odor of smelly shoes once they are placed inside our high-tech shoe bag."
Aercase ensures the smell of athletic shoes is cut off, with the bag effectively absorbing the odors and humidity coming from smelly shoes and killing the bacteria in a safe, non-toxic manner.
Aercase is available for pre-orders now at http://www.evoandco.com.