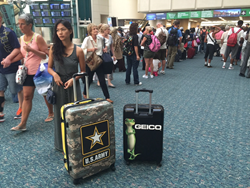 Change your luggage look in Seconds with Orion's Interchangeable Luggage!
Orlando, FL (PRWEB) November 04, 2016
Orion Travel Technologies, Inc.'s announced the first interchangeable luggage that gives travelers the ability to change out the look of their carry-on luggage when they travel. Orion gives travelers up to four skin wraps per year when they purchase Orion's 4-wheel Trolley Carry-on. Graphics consist of popular Movies, Vintage Travel Posters, to Cool Landscapes that travelers can inter-change from one to the other. All luggage comes with a two year warranty. It is made of very durable Hard Shell Plastic that resists any kind of damage. All Skins are high gloss graphics and some are in 3D.
"We wanted to give travelers more options and savings while traveling. Most of the traveling public still does not own a 4 wheel trolley piece of luggage. Orion gives them a great price and a way to be cool and fun while they travel by giving them great graphics that they can change out on a whim,." Said Gary German, Orion's Founder.
Most Skins for a 21 inch carry-on are priced at $30 each and are not licensed, we give them a choice of 2 complimentary licensed skins and a huge selection of future skins at $9.99 each. Orion's Carry-On luggage is priced at $49.99 plus shipping and handling.
ABOUT ORION. Orion is an international corporation that is currently in 15 countries worldwide. Orion is based in Honolulu, HI with ten patent pending travel technology footprint platforms that are positioned for global travelers. Orion Travel Tech, Inc. has over 16 digital platforms under its aggressive Travel Ecosystem. Orion has everything TRAVEL under one roof that gives most travelers around the globe an all-inclusive destination for all their travel needs. You can reach Gary German, the Founder of Orion Travel Tech, Inc. directly at 407-574-6649-office, 407-496-4862-cellular or gary.german(at)oriontraveltech(dot)com.