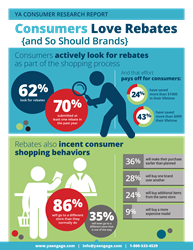 Minneapolis, MN (PRWEB) November 15, 2016
A recent study by YA, an industry market leader in delivering flawless, omni-channel marketing promotions for the nation's most respected brands, reveals the power rebates have over consumer buying decisions.
In the 2016 survey of more than 1,000 Americans, 62 percent of respondents said they look for rebate offers before they make a purchase, and for many, it pays off. Nearly one-quarter (24 percent) of respondents say they've saved up to $1,000 during their lifetime by submitting and redeeming rebates, and nearly half (43 percent) say they've saved up to $499.
The majority of Americans do participate in rebate programs, with 70 percent saying they've completed at least one rebate within the last year.
According to the survey, rebates don't have to be large for consumers to participate. Fifty-five percent of respondents said they would submit a rebate if it was for at least $5. Ninety percent say they actually redeem their rebates once received.
The number one way consumers prefer to receive a rebate is via pre-paid card.
"Today's rebate rewards are a great way for both product manufacturers and retailers to create an ongoing relationship with consumers," said YA President and CEO Chris Behrens. "With today's technology, we can track when and where a consumer uses a rebate reward card — and what they purchase. This helps tailor future offers, based on the consumer's buying habits."
Eighty-six percent of respondents said a rebate offer would incentivize them to go to a store they normally don't visit, and 35 percent said they would go to a different store for a rebate, even if it was out of their way. Also, 24 percent of consumers reported they would buy additional items from the store if they were receiving a rebate.
Additionally, the survey confirmed that rebates directly impact purchase timing, purchase size and brand choice. In fact, 36 percent of consumers said they would make a purchase earlier than planned due to a rebate. Twenty-eight percent of consumers said they would buy one brand over another, and nine percent said they would buy a more expensive model if a rebate were available.
While the YA survey proves that rebates are an effective marketing tool, Behrens warns that care should be taken when creating a rebate program.
"One of the key issues organizations should consider when formulating a rebate program is ease of submission and redemption," said Behrens. "If you make a consumer work too hard for their reward, it could backfire and give them a negative perception of your brand."
Consumers want rebate programs to be fast and simple. Consumers noted it can be frustrating to wait a long time for the reward to arrive or if they are required "jump through too many hoops." Eighty-one percent said they'd be more likely to submit a rebate if they could submit all of their information online or via their mobile phones.
Using technology in the rebate process can benefit brands and consumers.
"The technology behind rebates is continually getting more sophisticated," said Behrens. "YA works with clients to craft their rebate programs to take advantage of technology that speeds up processing and delivers timely communication to consumers. We know that leveraging technology improves the consumer experience, drives brand affinity and increases the return on marketing investment our clients garner from rebate programs."
About YA
For more than 40 years, YA has been a leader in the promotional marketing services space. We deliver flawless digital, social, mobile and traditional promotions, such as rebates/rewards, enter-to-win and loyalty programs for the nation's most respected brands. Our end-to-end management of 3,500+ promotions that reach tens of millions of consumers annually makes us experts at turning even first-time customers into loyal brand advocates. More information can be found on our company website: http://www.yaengage.com.