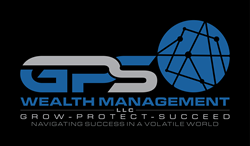 ...We will not take a back-seat and let modern technology and strategies pass us by.
Plymouth, MN (PRWEB) November 04, 2016
Twenty years ago, Jim Goodland formed his first Independent financial services firm, focused on providing local and global resources for his clients to achieve financial success. Goodland focused on providing leading investment advice coupled with a group of local and global experts to form successful financial plans and state-of-the art portfolio management strategies in 1990's terms. Ten years later, Jim Goodland and his team of experts, saw the industry changing to a broader scope of financial planning needs and so they formed their first wealth management firm.
After a 10-year campaign as a successful wealth management firm, Jim Goodland and Team now see the industry changing once again. Jim Goodland and Team are now in the process of forming another new brand – GPS Wealth Management, LLC (GPSWM).
Jim Goodland, President and CEO of GPSWM says, "As the industry evolves and technology and social media become more of our clients' everyday life, we felt it our responsibility to enhance these areas and have dedicated a lot of time, energy and resources to launch our new brand. At GPSWM, we will have state-of-the art client reporting, financial planning, and portfolio management technologies which include enhanced asset allocation tools, trading capabilities, algorithmic portfolio options and much more. We see the word migrating towards technology and social media as well as the playing field being completely global."
GPSWM is building a cutting-edge website and will also focus on social media capabilities and intertwine all of this technology in an easy to use and understand client centered portal. "We want to communicate with current and prospective clients that we will not take a back-seat and let modern technology and strategies pass us by," Jim Goodland says, "While we have the efficiency of a 'wealth management machine', we also strive to add a unique personal touch and develop solid relationships with our clients and their families."
In August 2016, Jim Goodland and his team were very excited to introduce GPSWM to their current and prospective clients and now look forward to expanding their global positioning within the financial services industry.
Please visit http://www.GPSWealthMN.com to learn more about GPS Wealth Management, LLC.
Spire Investment Partners, LLC is the parent company of Spire Wealth Management, LLC, an SEC Registered Investment Advisor and Spire Securities, LLC, a registered broker/dealer and member FINRA/SIPC. GPS Wealth Management, LLC is an unregulated DBA under which Spire related activities are performed.