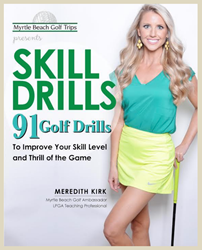 She has instructed thousands of golf students over the years and can help anyone, from those just getting started to golfers who've played for years.
Myrtle Beach, S.C. (PRWEB) November 04, 2016
Golf Digest named Meredith Kirk to its 2017 list of "Best Young Teachers" in America. Kirk is the lead instructor at the Dustin Johnson Golf School in Myrtle Beach, South Carolina, and the Myrtle Beach Golf Ambassador with Founders Group International (FGI), owner of 22 Grand Strand Golf Courses and package provider Myrtle Beach Golf Trips.
Golf Digest scoured state and national rankings, tour players and PGA sections nationwide to find their nominees. It surveyed its top picks, talked to their mentors and students, and studied their personal stories. Based on their accomplishments, desire to learn, and day-to-day teaching successes, Golf Digest came up with the best young teachers across the U.S.
"We're thrilled to have Meredith on our team," said Steve Mays, director of marketing and sales for Founders Group International. "She's very giving of herself to the game and brings a level of professionalism that is unmatched. She has instructed thousands of golf students over the years and can help anyone, from those just getting started to golfers who've played for years."
Kirk started playing golf at the age of six. She would hang out on the golf course while her sister was training for the Olympics in Denver. Kirk and her family moved to the "Golf Capital of the World," Myrtle Beach, while she was in middle school so she could play competitive junior golf. She started teaching golf while enrolled at Coastal Carolina University in neighboring Conway, S.C.
"It is such an honor to be recognized by Golf Digest," said Meredith Kirk. "I'm really thankful to all the mentors in my life that helped me become the best version of myself and to the students who make me strive to be a great teacher."
The author of an instruction book entitled Skill Drills, Kirk has recently been featured on the Golf Channel's School of Golf and The Golf Fix. She also appeared on The Traveling Golfer with Tony Leodora. Her book includes 91 drills to help golfers with their games. From putting drills to guidance on how to get more distance off the tee, her drills are focused on game improvement for all levels of golfers. It can be found at MyrtleBeachGolfTrips.com/SkillDrills. Golfers can also find Kirk's golf tips at MBN.com.
The 38-year-old mother of three also started the non-profit Junior Golf Exchange, which provided golf equipment to children 14 and under who couldn't afford it. When Kirk needed a way to raise awareness of the organization, she entered the 2014 Mrs. South Carolina America pageant and won. That led to her being named one of the 2015 Most Beautiful Women in Golf by Golf.com. Other awards include 2015 Top 40 Instructors Under 40 by Golf Digest, 2015 Innovator of the Year by Golf.com, and in 2016 she was ranked third for Instruction in South Carolina by Golf Digest.
Golfers can schedule a lesson with Kirk at the Dustin Johnson Golf School at TPC Myrtle Beach. TPC Myrtle Beach is the only course on the Grand Stand to have been awarded 5 stars by Golf Digest.
As Myrtle Beach Golf Ambassador, Kirk promotes golf vacations to the Myrtle Beach area and serves as the community liaison along the Grand Strand. She meets with groups and provides instruction to visiting golfers, just as she will to the winners of the Meredith Kirk Golf Sweepstakes Vacation this November. Six golfers will stay in one of Myrtle Beach's finest resorts, enjoy multiple rounds of golf, and spend time with Meredith on the course, at a lesson, and at dinner.
More information about Meredith Kirk and FGI is available at MyrtleBeachGolfTrips.com.
About Founders Group International
Founders Group International (FGI) is the foremost golf course owner-operator company in the Southeastern United States. Formed in 2014 through various purchases and the 2015 acquisition of National Golf Management, FGI owns and operates 22 golf courses (423 holes) in and around Myrtle Beach, S.C., America's seaside golf capital.
FGI administers http://www.MBN.com, a leader in online tee time bookings, as well as package outlets Ambassador Golf and Myrtle Beach Golf Trips. With the help of Golf Insider's 100 percent player-generated course ranking system, thousands of golfers plan and assemble their ideal golf itineraries through FGI's assets, including "top-100 caliber" courses Pawleys Plantation Golf & Country Club, Grande Dunes Resort Club, TPC of Myrtle Beach, King's North at Myrtle Beach National Golf Club, Pine Lakes Country Club and more than 80 other Myrtle Beach area courses.
FGI also has a division that does residential and retail development, and it has partnered with one of the biggest travel agencies in China to bring golfers and wedding parties to Myrtle Beach, S.C.