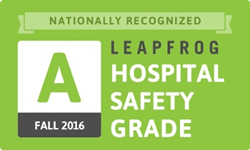 Hospitals that earn an A from Leapfrog are leaders that are saving lives
Tampa, FL (PRWEB) November 03, 2016
Florida Hospital, an Adventist Health System facility, has again been recognized by Leapfrog Hospital Safety Grade for achieving superior rankings on safety. The Leapfrog grading scale provides the most comprehensive picture of patient safety in the U.S. health care industry. Developed under the guidance of Leapfrog's Blue Ribbon Expert Panel, the Hospital Safety Score uses 30 measures of publicly available hospital safety data to assign A, B, C, D, and F grades to more than 2,500 U.S. hospitals nationally, twice per year.
The score is calculated by top patient safety experts, peer-reviewed, fully transparent and free to the public. The Hospital Safety Score includes five measures of patient-reported experience with the hospital as well as two of the most common infections: C. diff and MRSA.
"I am incredibly proud of our team here at Florida Hospital Carrollwood, and the continued efforts our entire staff has made to enhance and improve upon our already strong focus on a safe environment for our patients and employees," said Joe Johnson, President and CEO. "This focus on patient safety makes a difference in the environment for our visitors, staff and physicians, and ensures that in turn our patients and their loved ones experience a safe and secure hospital stay."
Florida Hospital Carrollwood, Florida Hospital North Pinellas and Florida Hospital Wesley Chapel earned an 'A' grade for patient safety in the Fall 2016 hospital safety score, which puts them among some of the safest hospitals in the United States. High scores are awarded to hospitals based off of a multitude of performance objectives that are observed by Leapfrog throughout the year and reflect just how safe each establishment is.
"Florida Hospital North Pinellas is proud to receive an "A" grade in patient safety from the Leapfrog Group for the seventh consecutive semester," said Tricia Williams, Florida Hospital North Pinellas President and CEO. "Maintaining the best grade for three and a half years confirms our staff's dedication to providing our patients with the highest level of quality care."
"Florida Hospital Wesley Chapel is dedicated to providing our patients with the highest level of care. This A safety rating from Leapfrog is a reflection of the dedication of our team to delivering that quality care every day," said Denyse Bales-Chubb, President and CEO of Florida Hospital Wesley Chapel.
To learn more about your hospital's full score and how to access patient-friendly advice for those visiting the hospital, visit http://www.hospitalsafetyscore.org or download the free Hospital Safety Score mobile app for Apple and Android devices.
"Avoidable deaths in hospitals should be the number one concern of our health care leaders. Hospitals that earn an 'A' from Leapfrog are leaders in saving lives, and we commend them and urge their continued vigilance," said Leah Binder, President and CEO of The Leapfrog Group.
About The Leapfrog Group
Founded in 2000 by large employers and other purchasers, The Leapfrog Group is a national nonprofit organization driving a movement for giant leaps forward in the quality and safety of American health care. The flagship Leapfrog Hospital Survey collects and transparently reports hospital performance, empowering purchasers to find the highest-value care and giving consumers the lifesaving information they need to make informed decisions. Hospital Safety Score, Leapfrog's other main initiative, assigns letter grades to hospitals based on their record of patient safety, helping consumers protect themselves and their families from errors, injuries, accidents, and infections.
About Florida Hospital Carrollwood
Conveniently located for Tampa Bay Area residents, Florida Hospital Carrollwood is a 120-bed acute care facility that specializes in providing comprehensive medical services in an environment of Christian compassion and healing. Awarded by the Florida Hospital Association for Leadership in Quality and Patient Safety in 2014 and 2015, the hospital is a member of the West Florida Region of Florida Hospital and Adventist Health System. Florida Hospital Carrollwood offers recognized spine, orthopedic and bariatric surgical services, as well as Emergency, Cardiology, and Wound Healing and Hyperbaric Medicine services with highly skilled clinical staff and physicians dedicated to providing the highest quality of care with an inspired approach. For more information, please visit fhcarrollwood.org
About Florida Hospital North Pinellas
Florida Hospital North Pinellas, located in Tarpon Springs, is a 168-bed, full-service hospital specializing in cardiovascular medicine, emergency medicine, orthopedics, wound healing, sleep medicine and general surgery including minimally invasive and robotic-assisted procedures. Florida Hospital North Pinellas has been nationally recognized by the American Heart Association, the American Stroke Association, The Joint Commission, and The Leapfrog Group, for excellence in providing quality patient care. Florida Hospital North Pinellas serves both the Pinellas and Pasco communities of West Central Florida. Part of the Adventist Health System, Florida Hospital is a leading health network comprised of 26 hospitals throughout the state. For more information, visit http://www.FHNorthPinellas.com.
About Florida Hospital Wesley Chapel
Florida Hospital Wesley Chapel is a 103 all-private bed hospital. Built from the ground-up, this full-service community hospital features expert staff, specialty design and state-of-the art technology built for better patient care. The hospital features state of the art imaging and surgical equipment, much of it first in the region. Services include an emergency department, cardiac care, vascular surgery, orthopedics and sports medicine, women's services and gynecology, obstetrics, urology and nephrology, outpatient imaging, outpatient physical and occupational therapy, The Center for Women's Health and a free-standing Health & Wellness Center. The hospital's Wellness Plaza also houses offices for primary care and specialty physicians. Florida Hospital Wesley Chapel announced a major expansion that will add more inpatient rooms, emergency rooms and surgical suites. Construction begins in summer of 2015 and is scheduled to be completed in December of 2016. Part of the Adventist Health System, Florida Hospital is a leading, not-for-profit health network comprised of 26 hospitals throughout the state. For more information, please visit http://www.FHWesleyChapel.org.