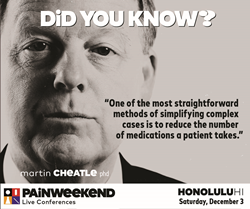 Please continue these live symposia. Many of us have improved our understanding of pain etiologies, management, and follow-up of patients with acute and chronic pain
Montclair, NJ (PRWEB) November 08, 2016
Aloha! The PAINWeekEnd (PWE) Regional Conference series goes to Hawaii. An attendee at a recent PWE commented, "Please continue these live symposia. Many of us have improved our understanding of pain etiologies, management, and follow-up of patients with acute and chronic pain."
Practitioners can improve their understanding by attending the December 3 Honolulu conference, a full-day program which will provide busy clinicians and allied healthcare practitioners with relevant, practical instruction in the management of chronic pain. The meeting will be at the Hyatt Regency Waikiki Beach Resort and Spa, 4242 Kalakaua Avenue.
According to the CDC, in Hawaii there has been an 83% increase in drug overdose deaths from 2006 to 2014, a growth rate more than double the national average of 37%. How does this affect practitioners? How can they keep up to date with changing healthcare issues? Attend PAINWeekEnd Honolulu.
The state of Hawaii requires 40 hours of AMA PRA Category 1 CME type credits per two years. By attending PAINWeekEnd Honolulu, participants can receive 6.0 CE/CME credit hours as they enhance their skills in medication risk evaluation and mitigation, pain assessment and diagnosis, and delivery of individualized multimodal treatment. Course topics include nonopioid analgesics: antidepressants, adjuvant therapies, and muscle relaxants; exit strategies from the dark side; risk assessment and chart documentation; cannabis vs cannabinoids: the politics of medical marijuana; and courses entitled "Embrace 2016 Practice Changes and Patient Education: Overview of Critical Pain Management Practice Issues" and "Minimizing Pills and Maximizing Skills: Achieving Successful Opioid Cessation in Chronic Pain."
To see the complete agenda and more information about this or other PAINWeekEnd Regional Conference, go to painweekend.org.
The online registration fee for this PAINWeekEnd Conference is $129. PAINWeekEnd registrants are further offered the opportunity to register for the 2017 PAINWeek National Conference, September 4-8 in Las Vegas, for $129 off the current online published price.
PAINWeekEnd is provided by Global Education Group.