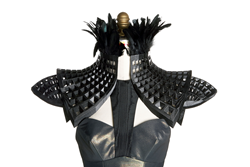 "It is an exciting time for fashion tech and shaping the future of an industry has not been brighter; we are honored to be an official global media partner and supporting fashion tech in the Austin community," - Val Vacante
Austin, TX (PRWEB) November 04, 2016
Put Together: The BDYHAX Fashion Show will kick off a weekend of bodyhacking, future tech, bionics, and transhumanism in Austin, TX on January 27th. The event will be co-produced by London fashion group INTERLACED (http://interlaced.co/) and will feature fashion tech from artists like Birce Ozkan, Teresa Lamb, Jingwen Zhu, Lina Wassong, and Rachel Nhan. Clausette.cc is the first French online magazine exploring the Future of Fashion and will be the media partner for Put Together. Clausette.cc provides perspective from designers, entrepreneurs and academics who are intersecting technology, science and art to impact the fashion industry aesthetically and functionally. "It is an exciting time for fashion tech and shaping the future of an industry has not been brighter; we are honored to be an official global media partner and supporting fashion tech in the Austin community," says Val Vacante of Clausette.cc.
Put Together will feature a unique combination of runway and display, as many of the pieces are too detailed for a traditional fashion show viewing. Pieces showcased will feature tech including responsive-design, sensory augmentation, new reactive materials, 3d printed garments and more including Sensoree's mood-sensing sweater and participation from fashion and technology company Vinaya, which products include emotion tracking bracelet Zenta and smart accessory collection Altruis. Several designers will be on site after the runway portion to discuss the technology behind the pieces and to show off any small details.
Additionally, Put Together will open with a "Waiting for Earthquakes" performance by Moon Ribas, a cyborg who senses earthquakes worldwide with the assistance of an implant in her arm. Waiting for Earthquakes translates these earthquakes happening anywhere on the planet into dance. If there are no earthquakes, there is no dance. Music throughout the show will be performed live by Kiara Craft, who released "A Rumor About Love." Kiara's sultry voice, and soulful melodies are reminiscent of classic rhythm and blues, with a modern Pop vibe on top of Hip Hop-laced trap beats. Kiara's wide array of musical influences (from Diana Ross to Aaliyah) make for a sound that is fresh, edgy, and distinctively "Kiara"
The BDYHAX ("Body Hacks") Conference, held later that weekend at Austin Convention Center, will be hosting a strong lineup of speakers including award winning writer and co-editor of Boing Boing, Cory Doctorow, OpenBionics CEO Samantha Payne, bionic videographer Rob Spence, and cyborg drummer Jason Barnes. The conference will take place on January 28th and 29th, and include The Wormhole on Saturday night. The Wormhole, a dance party of epic proportions, celebrates the science fiction and fantasy around cyborgs and human augmentation with performances by Moon Ribas, Jason Barnes (as CYBRNETX) and others. Put Together and The Wormhole are currently priced at $15 each, but prices for Put Together as well as the larger BDYHAX conference increase starting November 16th.
About BDYHAX
BodyHacking Con, also known as BDYHAX ("Body Hacks") isn't just about implantable technology. It's about wearable tech, cybernetics and prosthetics, health, fitness, nootropics, and body modification like tattoo and piercing, along with everything else you can do to be more like your ideal self. BDYHAX 2017 takes place at Austin Convention Center January 27-29. More information can be found at BDYHAX.com as well as on Twitter & Instagram as @BodyHackingCon and Facebook.com/BodyHackingCon. Sponsorship opportunities still available. For further press inquiries, please contact at press(at)bodyhackingcon.com