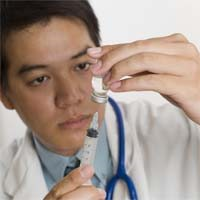 The Phase I data showed a dramatic increase in tumor-infiltrating cytotoxic CD8+ T cells...
Raleigh, NC (PRWEB) November 04, 2016
Scientists with Targovax, the makers of a promising new immunotherapy drug for malignant mesothelioma recently presented their preclinical and clinical data at a meeting hosted by the International Society of Stem Cell Research and the European Society of Gene and Cell Therapy in October. Surviving Mesothelioma has just posted an article on their presentation. Click here to read it now.
The drug, called ONCOS-102, is made from a deactivated cold virus and is designed to make mesothelioma cells vulnerable to immune system attack.
"The Phase I data showed a dramatic increase in tumor-infiltrating cytotoxic CD8+ T cells, innate immune system activation, and cancer specific CD8+ T cells in blood indicating system activation of the immune system," writes Dr. Magnus Jaderberg, the head of research and development at Targovax.
The company's presentation entitled "Anti-tumor potency of cancer vaccine ONCOS-102 in the treatment of malignant mesothelioma in pre-clinical and clinical studies", included data showing that ONCOS-102 improved overall survival in mesothelioma patients.
"Targovax says that the next test for ONCOS-102 is a Phase II mesothelioma trial which will test its ability to make chemotherapy more effective," says Alex Strauss, Managing Editor of Surviving Mesothelioma. "Surviving Mesothelioma will continue to bring our readers news of this drug's progress."
Immunotherapy is widely considered to be one of the most hopeful new approaches to the treatment of intractable cancers such as malignant mesothelioma. To read more about the newest ONCOS-102 data, see Mesothelioma Treatment News: Novel Immunotherapy Drug Featured at International Symposium, now available on the Surviving Mesothelioma website.
"Targovax presents ONCOS-102 scientific rationale at the European Society of Gene and Cell Therapy,", October 21, 2016, News Release, Targovax website, http://www.targovax.com/news/2016/targovax-presents-oncos-102-scientific-rationale-european-society-gene-and-cell-therapy
For nearly ten years, Surviving Mesothelioma has brought readers the most important and ground-breaking news on the causes, diagnosis and treatment of mesothelioma. All Surviving Mesothelioma news is gathered and reported directly from the peer-reviewed medical literature. Written for patients and their loved ones, Surviving Mesothelioma news helps families make more informed decisions.