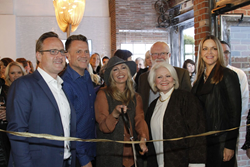 The Old Hardware Store was a center point for Bainbridge Islanders for decades. We share that same spirit today and seek to be a meaningful part of this community for many years to come.
Bainbridge Island, WA (PRWEB) November 04, 2016
Realogics Sotheby's International Realty (RSIR) has opened a new Bainbridge Island branch called the "Island Living Gallery" at 240 Winslow Way East. Occupying approximately one half of the Old Hardware Store – a nostalgic icon of Bainbridge Island heritage built in 1948 – the global real estate brand and its twenty licensed brokers in Kitsap County are now poised for growth. RSIR will collaborate with the adjoining restaurant and bar Bruciato, operated by famed chef and Bainbridge Island resident Brendan McGill of Hitchcock, which is set to open by the end of the year. This dynamic lifestyle center at the heart of Winslow has resurrected an important landmark building which has stood vacant for more than five years. A public grand opening celebration will take place in the New Year. To hear more about upcoming events, please sign up for our Passport Registry.
"This thoughtful revitalization of an important building is a testament to our commitment to Bainbridge Island and to all of Kitsap County that we serve – it's living history," said Jennifer Johnsen Cameron, Vice President of Brand Development and new Branch Manager for Bainbridge Island. "The Old Hardware Store was a center point for Bainbridge Islanders for decades. We share that same spirit today and seek to be a meaningful part of this community for many years to come."
Cameron accepted the interim role as Branch Manager for the Bainbridge Island office in order to personally place new broker appointments and she will select her replacement after establishing the expanded operations.
Despite being the newest brokerage, RSIR ranks third most productive on Bainbridge Island with the highest average listing sales prices amongst its peers, according to Trendgraphix research. RSIR brokers participated in the listing and sale in each of Bainbridge Island's top sales over $5 million in 2016, yet proudly serves all property types and price points. Across the Puget Sound region, RSIR was recognized by the Puget Sound Business Journal for the fifth consecutive year among the top 100 "Fastest-Growing Private Companies" in Washington and collectively holds the greatest listing sales production per broker when compared with the top ten largest real estate brands market wide.
RSIR's new 4,000-SF+ facility is a celebration of both old and new. The original structure features exposed timbers, a barrel ceiling and refinished concrete floors while state-of-the-art technology by Wipliance includes large-format video screens, projectors and entertainment systems ensures the venue can quickly transform from brokerage office by day to a multi-media venue for special events and promotions by night. Architectural upgrades include a dynamic folding door system on Winslow Way that creates an indoor/outdoor experience. Artisan touches include upcycled historical materials and custom metalwork by local craftsman Jeremy Loerch. A participant in First Friday Artwalk, the showroom will include works by The Island Gallery and floor coverings by Island Ambiance. The RSIR branch will also include an office for preferred lender Caliber Home Loans – a top producing mortgage banker on Bainbridge Island represented by Missy Lundwall.
"Having been part of this process since inception, I am extremely proud of our accomplishment and we're just getting started," said Marilyn Turner, Office Manager and Director of Broker Care for the brokerage in Kitsap County. "Our objective was to create a community gathering space or a third place for all to come together outside of home and work – like a living room open to the public. It's a blend of culture, cuisine and real estate. Based on the response so far, I think we are on our way to reaching our goal."
Turner hopes to attract community events and philanthropic interests to exercise the new venue, which was designed to host executive meetings and showcase products and properties alike. Large barn doors will open internally to merge the Island Living Gallery with the Bruciato restaurant and bar for live entertainment and even private dining events. RSIR is also exploring "Industry Nights" – where a guest broker from Sotheby's International Realty will present travel and lifestyle offerings in featured "sea, sand, snow, sun and surf" destinations around the globe. The firm hopes to attract residents and third-party brokers alike – all are welcome.
"Our new venue will open a world of opportunity but our primary focus remains excellence in residential real estate sales and marketing," adds Cameron. "Premier retail exposure is just another unique advantage that we bring to our brokers and our clients."
RSIR first opened a boutique real estate brokerage on Bainbridge Island in 2011 and later expanded to a second satellite office. Both offices have now been consolidated within the new branch location.
The Old Hardware Store Restoration Team:
Owner / Landlord: The Old Hardware Store, LLC (Principal Joseph Lacko of JL Management)
Tenants: Realogics Sotheby's International Realty (incl. subtenant Caliber Home Loans) and Bruciato Restaurant and Bar
Architect: Dana Webber
Contractor: Clark Construction
Interior Designer: Jennifer Colley
Metalwork: Alchemy Industrial Art
Artwork: Island Gallery
Floor Coverings: Island Ambiance
Audio/Visual: Wiplance
###
About Realogics Sotheby's International Realty (http://www.RSIR.com) - Artfully uniting extraordinary homes with extraordinary lives Realogics Sotheby's International Realty is a leading global sales and marketing brokerage firm in the Pacific Northwest. Recognized by the Puget Sound Business Journal amongst the fastest-growing private companies in Washington State for 2012, 2013, 2014, 2015 and 2016 the boutique real estate firm of 180+ brokers consistently rank among the top producing firms within the markets that it serves with branches in downtown Seattle, Bainbridge Island, Kirkland, Issaquah and now Madison Park
EDITORS NOTES: For high-resolution photography contact Andrea Savage at 206.448.5752 or email Andrea.Savage(at)RSIR(dot)com.