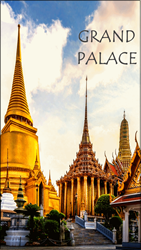 This tour guide app has a wealth of information and gave a great insight to the history, kings palace and the museums. It made for a wonderful day of touring and lived up to every hope and expectation.
Barrington, RI (PRWEB) November 07, 2016
Action Data Systems announced a tour guide app for visitors to Thailand's Bangkok Grand Palace. The Grand Palace app guides visitors around this Bangkok attraction to see sights such as the Emerald Buddha and various Palace structures. Bangkok Grand Palace is probably the most visited attraction and remembered landmark of Thailand. Every visitor must pay a visit to the Grand Palace in Bangkok at least once in their lifetime. The Grand Palace has been the official residence of the Kings of Thailand since 1782. It is one of the most beautiful and impressive attractions in Bangkok. It houses the Emerald Buddha, which is one of Thailand's and Bangkok's top sights.
Action Data Systems is a Rhode Island-based mobile tour guide app company that created and launched this beautiful tour-guide-via-mobile-app for tourists visiting the Bangkok Grand Palace. Visitors can now explore Bangkok's magnificent Grand Palace with a narrator they can trust. This app acts as a local guide to take them through the palace with beautiful images, easily readable text, 3D navigational maps and dynamic narration.
When tourists enter the Grand Palace complex, they come across hundreds of royal and religious structures. However, few people know their stories, history, or significance. Many tourists have trouble understanding the rich history of what they're looking at -- whether it's the architecture of the Grand Palace structures, the significance of the Palace statues, or the story of the Emerald Buddha. Hiring a local guide is often stressful and disappointing. Reading from a book is inconvenient and impractical. Renting the Palace's audio players is expensive and time-sensitive. That is why the idea of a mobile app tour guide makes a lot of sense. This app is full of interesting stories for all ages, with an enthusiastic narrator, stunning photographs, helpful navigational maps, and total offline capability. The app guide​ ​highlights points of interest and explains their history and significance in a fun-filled and illuminating tour.
The app is useful for :
1. Pre-visit reading and a virtual tour
2. Extremely useful while visiting the complex
3. Post-visit review, nice pictures without hundreds of tourists in the middle and sharing on social media
The apps are available worldwide on the app stores. Click here to download.
With this app, tourists do not have to depend on a human guide's mood, accent, attitude or risk of getting cheated. Also, unlike the two hour limit of the Palace's audio instrument, this app has no time limit. Tourists can take the story home with them.​ ​Download the app today and enjoy this royal, educational, modern, and entertaining tour either at home or at Bangkok's Grand Palace.
About Action Data Systems : Action Data Systems is headquartered in Barrington, Rhode Island with a regional office in Mumbai India. Action Data Systems helps museums, attractions, religious places, and bus tour operators to create Apple and Android tour guide apps to increase tourist engagement, improve ratings & reviews and generate new revenue from mobile e-commerce.