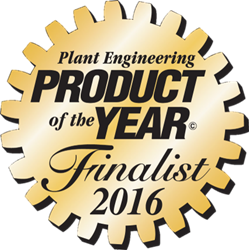 Center Harbor, N.H. (PRWEB) November 10, 2016
The Bigfoot CMMS mobile app — as part of the award-winning Bigfoot asset and equipment maintenance management system — has been named a finalist for the Plant Engineering 2016 "Product of the Year" awards in the "Maintenance Software" category for the second year in a row, last year winning the "Gold Award" in the same category for the cloud-based Bigfoot CMMS solution.
This year marks the 29th anniversary of the Product of the Year program, the premier award for new products in the manufacturing and non-manufacturing industries. Finalists comprise newly-released products that help Plant Engineering readers do their jobs smarter, safer, more efficiently and more productively. Readers will vote on award winners, who will be honored at the annual Engineering Awards in Manufacturing dinner, as hosted by CFE Media on April 3, 2017 in Chicago. Plant Engineering will announce the winners on March 28, 2017 online and in the April issue of its magazine.
Earlier this year, Smartware Group launched its first native mobile application for the Bigfoot CMMS Enterprise+ platform. Developed for iOS and Android devices, the Bigfoot mobile app offers easy access to core functionality of the browser-based system in addition to a robust suite of mobile-exclusive capabilities. Intuitive design innovation is emphasized throughout the Bigfoot mobile app, just as it is stressed in all Bigfoot solutions. Through a "finger-friendly" interface, the app allows for touch and swipe gestures, as well as pinch-and-zoom and drill-down accessibility.
QR code access prompts quick retrieval of records while built-in camera integration gives users the ability to upload images to the Bigfoot media library for association to relevant assets, work orders and parts. Offline work order editing is available for Bigfoot mobile app users outside of WiFi or cellular connection, allowing the syncing of work order-related data when users are back online.
The latest version of Bigfoot CMMS, release 1.7, was announced in July of this year. This update enhanced Bigfoot's reporting and analysis capabilities, including a new Analyzer function that equips users with the ability to "slice and dice" maintenance data within the application. Several reports were also added, such as Asset Straight Line Depreciation, Purchase Order Line Item Detail, Personnel Certifications, among others.
To vote the Bigfoot CMMS mobile app as this year's "Product of the Year" winner, visit http://www.plantengineering.com.
About Smartware Group, Inc.
Smartware Group, Inc., headquartered in Center Harbor, N.H., produces Bigfoot CMMS for manufacturing, distribution, data centers, hospitality, mining, and energy & utilities industries.
Since 2002, Bigfoot has helped more than 10,000 users worldwide improve facility and equipment maintenance operations with advanced capabilities that include preventive maintenance (PMs) and predictive maintenance, work order scheduling, maintenance requests, asset lifecycle management, parts replacement inventory, and built-in reporting. Bigfoot CMMS' native functionality paired with its intuitive design allows maintenance professionals to implement the solution and get results quickly, often in a matter of weeks.
The Bigfoot solution was named a 2015 "Product of the Year" by Plant Engineering magazine, and previously earned a Bronze Stevie® Award during the 11th Annual International Business Awards in the Best Interface Design category. Experience the Bigfoot difference by accessing a free trial at http://www.bigfootcmms.com/free-trial today.
About Plant Engineering's Product of the Years Awards Program
Plant Engineering's Product of the Year (POY) program is the premier award for new products in the manufacturing and non-manufacturing industries. Now in its 29th year, the annual reader-choice program provides Plant Engineering's audience with information about the top new products in their fields. Qualified readers select new products that help them do their jobs smarter, safer, more efficiently and more productively.