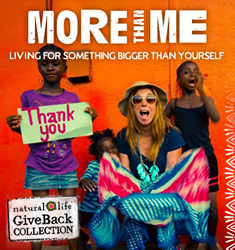 Jacksonville, FL (PRWEB) November 09, 2016
More Than Me believes in, "Living for something bigger than yourself". For their work in Liberia, West Africa, this means fighting relentlessly for every girls' fundamental right to a safe and healthy learning environment. To help fund programs in Liberia, Natural Life and More Than Me co-designed a capsule collection that captures their shared passion of making the world a better place by inspiring girls and women to realize their dreams and follow their passions.
"Life is found in giving life away," believes Katie Meyler, More Than Me's Founder and CEO. "When you are using your life to do good for others or to help make the world a better place, you find life in that. It's living for something bigger than just you. Not everyone is going to be able to go to Liberia, and probably shouldn't, but bigger than that, it's about loving the person right next to you."
Katie is one of 2016 PEOPLE's 25 Women Changing the World, 2014 TIME Person of the Year, she received the 2015 Nelson Mandela Changemaker Award and she was the grand prize winner of the 2012 CHASE American Giving Award. BONO's ONE Foundation called Katie, "The most passionate person we've ever met!"
Proceeds from the Natural Life More Than Me GiveBack Collection will help address the national emergency of a failed education system in Liberia by creating schools with supportive adults in a stable environment. When a little girl is safe, healthy and educated, she thrives! She is able to harness her full potential and build future skills needed to manage life, school, work and parenting. More Than Me anticipates operating 500 schools in 5 years reaching over 250,000 children, with an added benefit of creating 15,000 new, high-quality professional jobs in the health, social work and education field in Liberia.
Natural Life makes irresistible treasures with a free-spirit style and positive vibe… inspiring people to Give and Live Happy! We believe that it's the little things that mean the most, that kindness really does matter, that you should always be yourself, do what you love, and try to make the world a better place! It was founded by Patti Hughes in 1996 fueled by everyday life with three daughters, nostalgic memories and global artisan markets!
For more information, visit: http://www.naturallife.com