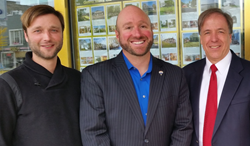 MCHENRY, ILL, (PRWEB) November 05, 2016
RE/MAX Geneva Realty of Lake Geneva, Wis., has merged with RE/MAX Plaza, a four-office firm located in northern Illinois with a staff of more than 50 sales associates. The merger was jointly announced by John and Adam Law, broker/owners of RE/MAX Geneva Realty and Rob Schaid, broker/owner of RE/MAX Plaza.
The Lake Geneva location at 101 Broad St. is being renamed RE/MAX Plaza. The RE/MAX Plaza locations in Illinois include its McHenry headquarters and offices in Wauconda, Woodstock and Richmond.
John Law has successfully operated RE/MAX Geneva Realty for the last 16 years. Explaining the decision to join forces with RE/MAX Plaza, Law said, "it was time to be part of a company that could offer my clients enhanced exposure and provide our agents with the systems and tools to help them compete in the changing market place."
Schaid said he is delighted to welcome John and Adam Law and their team of experienced, high producing agents and add the Lake Geneva location to the RE/MAX Plaza organization.
"John is one of the most respected realtors in the community, and Adam is an up and coming top producing agent. I am proud to have them join our team. It's something that doesn't happen every day, and the fact that they chose to join forces with us is one of the largest compliments I have received in my career," he said
John and Adam Law will continue serving buyers and sellers in the Lake Geneva market.
Schaid noted that the addition of a strong Wisconsin office had been an objective of RE/MAX Plaza for some time.
"Even before we took this step, about 10 percent of the transactions we completed involved property in Wisconsin, and much of that was in Walworth County, so Lake Geneva is an ideal location for us," he said.
Schaid explained that a major motivation is the demand he has seen from Illinois residents for property in southern Wisconsin.
"Whether they are looking for a second home or want to relocate for retirement or other reasons, we are seeing a great deal of interest in that area. Of course, Lake Geneva is an outstanding community with a national reputation and a strong real estate market, so we are thrilled about being part of it," he said.
"We look forward to building on the tradition of service that John and Adam have delivered to their clients and taking it to an even higher level," he said.
RE/MAX Plaza, founded in 1987, is part of RE/MAX, a global real estate organization with 104,000+ sales associates in 90+ nations.