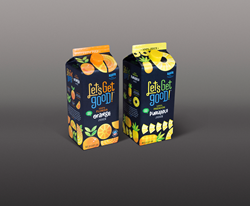 We created a disruptive design through a clever use of color and abstract illustration.
San Francisco, California (PRWEB) November 07, 2016
DDW San Francisco announced today the debut of Let's Get Good! branded juices, a new line from Delasa International that will bring premium juices to consumers in Latin America.
DDW conducted an extensive market analysis and category audit to understand what Latin American consumers look for in the juices they buy, and their unmet needs in a crowded juice market.
"We saw an opportunity to create a brand story based on two key insights," said Mike Goefft, DDW Managing Director. "First, that consumers are increasingly demanding the freshest, highest quality juices they can find–without additives, flavor enhancers and a lot of extra processing. Secondly, they're skeptical of exaggerated product claims, and appreciate brands that speak with clarity, honesty and with transparency."
That thinking led to the "Let's Get Good!" brand name, a simple yet provocative call to action that captures the goodness of the product and the reason for consumers to choose. It also inspired the Let's Get Good! brand story – a brand that settles for nothing less than the highest quality, freshest fruit picked at the peak of perfection. A brand that squeezes only 100% juice, not from concentrate, without additives or flavor enhancers. A brand devoted to health, nutrition and good wholesome foods.
"From there we set out to create a package design that breaks away from a category that's filled with clichéd imagery," said Ross Patrick, Executive Creative Director at DDW. "Where we landed is fairly disruptive for the category through the unique ways we use color and abstract illustration."
The result? Let's Get Good! is flying off the shelves in Chile, and will soon debut in Argentina. Its distinctive cartons stand out on shelf—and apart from the competition.
DDW's design for Let's Get Good! was also recently awarded the prestigious 2016 Graphic Design USA Award, and will be featured online and in print in the December issue of the 53rd GDUSA Design Annual Awards. DDW also designed the Let's Get Good! web site at http://letsgetgood.com/.
About DDW 
DDW (http://www.ddw.com) is a San Francisco based design firm with 20+ years experience helping clients create deep brand stories and fresh brand design. Current clients include Amazon, Anheuser-Busch, Alcatel, Big Heart Pet Brands, Campbell's, Sprint, Seattle's Best Coffee, The Men's Wearhouse, and The Non-GMO Project and several other undisclosed assignments.