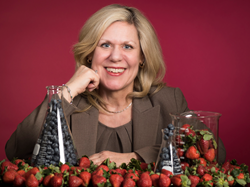 The MIND Diet has been shown to be more effective at slowing cognitive decline and reducing the risk of developing Alzheimer's disease
Irvine, California (PRWEB) November 07, 2016
California-based startup Pegara, Inc. announced today the launch of its innovative diet service called the "Brainsalvation Dietary Program". This service is specially designed to help middle-aged women*1 obtain a healthy dietary lifestyle and reduce their risk of developing Alzheimer's disease by using the scientifically proven principles of the MIND Diet.
The MIND Diet - The Brainsalvation Dietary Program follows the "Mediterranean-DASH Intervention for Neurodegenerative Delay" (MIND) diet. Dr. Martha Clare Morris*2 (a nutritional epidemiologist from Rush University Medical Center) and her colleagues developed the MIND diet to reduce the risk of developing Alzheimer's disease. In 2016, U.S. News & World Report*3 rated this diet highly, listing it as the top diet on their "Easiest to follow" list, #2 on their "Best Diets Overall" list, and #3 in the "Best Diets for Healthy Eating" category.
The MIND diet is a hybrid of the Mediterranean and DASH (Dietary Approaches to Stop Hypertension) diets, but with modifications based on the most compelling science on nutrition and dementia prevention. Both the DASH and Mediterranean diets have been found to reduce the risk of cardiovascular conditions like hypertension, heart attack, and stroke, but neither of these diets target the specific nutrients and foods that have been found to protect the brain. The MIND Diet has been shown to be more effective at slowing cognitive decline and reducing the risk of developing Alzheimer's disease.
Alzheimer's Fact - Alzheimer's disease can begin 25 years before the onset of symptoms, and the disease is the only illness among the top 10 causes of death in America that cannot be prevented or cured. Almost 5.2 million Americans age 65 and older are estimated to suffer from Alzheimer's, and by 2050 that number may more than triple, from 5.2 million to a projected 16 million in worst-case scenarios. Approximately two-thirds of Alzheimer's patients are women. Despite years of efforts by thousands of researchers, we still don't have a sufficient drug to treat or prevent this disease. The overall failure rate for Alzheimer's Disease drug development was 99.6% during the period from 2002 to 2012, which is significantly higher than the failure rate for other diseases.
Lifestyle Choices Affect Brain Health - But there is good news: researchers have been increasingly studying how lifestyle choices, including diet, can reduce the risk of developing Alzheimer's. Using this research, Pegara offers a dietary habit improvement program that enhances risk management against this debilitating disease. Through in-depth interviews, focus groups, and original research, Pegara has found that middle-aged women are the group most concerned about their chances of developing Alzheimer's. This is especially true for middle-aged women who have a family history of Alzheimer's. But they don't know how to reduce their risk of developing Alzheimer's, and often aren't confident that they can change their lifestyle without some assistance.
Brainsalvation Dietary Program - Once members sign up for the Brainsalvation Dietary Program on the website, the member will be assigned one of Brainsalvation's Nutrition Consultants and a Health Coach. The Nutrition Consultant oversees overall communications with members. Each Consultant has at least 4 years of experience as a Registered Dietitian, and has passed Pegara's rigorous selection process. The Health Coach handles regular feedback, and Pegara requires that each coach has at least a bachelor's degree in nutrition or 2 health related degrees plus 1 nutrition related coaching certification.
The initial step in the program will be to schedule the goal-setting session with a Nutrition Consultant via a phone call or Skype. The Nutrition Consultant will help the member set personal goals and understand the MIND Diet. Before the session begins, the member will be encouraged to send photos of their meals, drinks and snacks from the past 3 days. The Nutrition Consultant will evaluate the photos and give advice to achieve the member's initial goal based on the MIND Diet. Besides information and evaluation, immediately after the goal-setting session, Health Coaches will also provide motivation and personal encouragement to help program members stick with the diet.
The Brainsalvation program doesn't require the installation of any apps or tools. All communications with your Health Coach and Nutrition Consultant are done through phone or Skype calls, and you can send pictures of your meals via SMS/MMS on your mobile phone.
You can start the Brainsalvation program anytime. The fee for the first three months is $149 (includes initial registration fee) and $45/month thereafter.
The 3-month, $149 plan includes:
1. Education on the MIND Diet and a goal-setting session (30 minutes)
2. Evaluation of all food, snack and drink intake over 3 months (90 days x 3 meals plus)
3. Answers to member's questions
4. Weekly email magazine
5. Monthly report
Local Sessions in NYC - Pegara will host local information sessions starting in mid-to-late November in the New York City area. The local sessions will provide lectures on the latest information about Alzheimer's disease, the MIND Diet, and the Brainsalvation Dietary Program. Those who are interested in participating in the session can contact info(at)brainsalvation(dot)com for more information.
Next Step - Pegara also plans to launch the Brainsalvation Exercise Program within the next 6 months.
For More Information
Sign Up: https: http://www.brainsalvation.com/diet
Inquiries: info(at)pegara(dot)com
Partnership Contact: support(at)brainsalvation(dot)com

1 This program is for women only at this initial launch phase. In the future, the program may accept men as well.
2 Dr. Morris is a member of Pegara's Advisory Board.