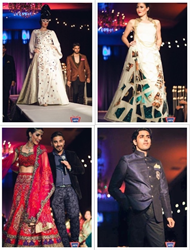 Dallas, Texas (PRWEB) November 04, 2016
On Friday October 28th, the runway was set and the models were ready to go for a unique fashion event: Fashion designer and founder of Silk Threads, Ruby Bhandari and her team hosted the Shimmering Lights Gala. October being the National Domestic Violence Awareness Month, this fashion-themed evening was put together to raise funds for local North Texas charities that are working towards that cause. A sold-out crowd of over 250 individuals, including the who's who of Dallas, attended and even walked the runway.
The event showcased new looks from Bhandari, who designs and manufactures her lines Silk Threads, the Ruby B Collection and the SOCIAL List. Over 35 models took to the stage, including Dallas Cowboys players Anthony Brown and Kavon Frazier, Dallas Mavericks player Satnam Singh, and Ms. Teen International and Mrs. International.
Fashion was definitely evident throughout the evening, but there was a bigger mission to this event.
"The evening was everything we expected and more. This year, our choice of the beneficiary charity was inspired by the death of my close friend due to domestic violence. Even the line I showed at the Gala had elements of women's empowerment in it. Mosaic Family Services, and one of our customers who is a domestic violence survivor, stood in front of hundreds of people and shared their stories. It was our honor and privilege to bring together a night which raised awareness of domestic violence, and we hope this will impact lives for years to come," said Bhandari.
Bhandari continued "Thanks to the generosity of our sponsors and donors, we were able to collect over $10,000 for this worthy cause. We hope to continue the trend and raise social awareness through fashion-themed events in 2017."
Mosaic Family Services Executive Director, Walter Nguyen said "Our heart-felt appreciation to Ruby Bhandari and the Silk Threads team for hosting a beautiful gala to benefit Mosaic Family Services. Their generous support brings awareness to an important human rights issue, and ultimately, helps Mosaic Family Services achieve our mission of ending domestic violence in North Texas. Their vision was to empower women, and because of their support, we've been able to empower many women who are leaving abusing relationships for the last time and coming to build new lives at Mosaic."
Silk Threads has been the premier provider of exclusive ladies and men's casual and formal wear worldwide for twenty-five years. Silk Threads specializes in custom gowns, bridal trousseaus and men's custom formal wear, as well as high-end women's tunics available in leading stores in North America. More details are available at SilkThreads.com or facebook.com/SilkThreadsDesigns.
Mosaic Family Services is a nonprofit community based organization that provides culturally and linguistically competent services to refugees and immigrants in crisis. Today, Mosaic reaches over 15,000 persons annually through direct services and outreach. More information is available at MosaicServices.org.
Silk Threads:
Facebook - https://www.facebook.com/SilkThreadsDesigns/
Instagram - https://www.instagram.com/silkthreadsinc/
Mosaic Family Services:
Facebook - https://www.facebook.com/MosaicFamilyServices/
Instagram - https://www.instagram.com/mosaicfreedom/
###
Media Contacts
Seema Govil
Cosmo City Media
(512) 762.7387
seema(at)cosmocitymedia(dot)com