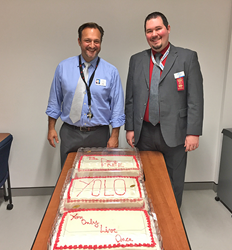 Suitland, Maryland (PRWEB) November 04, 2016
Andrews Federal Credit Union recently donated cakes to the S.H.A.P.E. American Middle School and S.H.A.P.E. American High School in participation with Red Ribbon Week.
Red Ribbon Week is annual event that raises awareness of the importance of saying no to drugs and drug prevention. The event is promoted throughout the schools and the cake is a tasty way to bring attention to saying no. The cakes had messages of "Be Drug Free", "You Only Live Once", and the acronym "YOLO". While the messages and the theme behind Red Ribbon Week have been around for several years, the importance is just as vital as ever.
"Educating our students about the horrible things that drugs can do your body, is vitally important," said Andrews Federal's Joshua Barrett, Chievres Branch Manager. "This is a great way to not only give the students a tasty treat, but also draw attention to such an important topic."
About Andrews Federal Credit Union
Andrews Federal Credit Union was founded in 1948 to serve the needs of military and civilian personnel by providing a vast array of financial products and services. With over $1 billion in assets, Andrews Federal has grown to serve more than 117,000 members in the District of Columbia, Joint Base Andrews (MD), Springfield, Virginia (VA), Joint Base McGuire-Dix-Lakehurst (NJ), and military installations in central Germany, Belgium, and the Netherlands. In addition, the Credit Union serves as a financial partner with many select employee groups in Maryland, the District of Columbia, and New Jersey.
To learn more about Andrews Federal Credit Union and its community involvement, or to become a member, call 800.487.5500 or visit http://www.andrewsfcu.org.