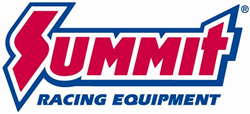 Tallmadge, OH (PRWEB) November 07, 2016
Summit Racing has created Engine Power Black and Blue Ford 347 Stage 3 Parts Combos based on PowerNation TV's Engine Power project. This latest version of Engine Power's small block Ford got Holley EFI and a turbocharger setup, and made 806 horsepower and 782 ft.-lbs. of torque on the dyno.
Summit Racing's Black and Blue 347 Stage 3 Parts Combos highlight the parts required to make big horsepower.
Black and Blue Ford 347 Stage 3 Engine Combo
At the heart of Stage 3 is an all-new Dart Iron Eagle engine block, specifically designed for big-power builds. The Eagle rotating assembly, AFR Renegade cylinder heads, Moroso oil pan, Jesel shaft rockers, and other parts from the Stage 2 build were reused. New parts include a DSS main cap girdle and windage tray, Lunati roller lifters, COMP Cams Hi-Tech pushrods, plus new Clevite bearings, ARP fasteners, and gaskets from Fel-Pro and Cometic.
Black and Blue Ford 347 Stage 3 Induction and Ignition Combo
This combo focuses Holley HP EFI Retrofit conversion. The Edelbrock Super Victor Jr. intake from the Stage 2 build was modified for port fuel injection and fitted with a set of Holley 120 lbs.-hr. fuel injectors. Timing was entrusted to an MSD Pro-Billet Cam Sync Distributor.
Modifying a vehicle with these parts might not be emissions-legal in some states—check state and local laws before ordering.
Watch the Black and Blue 347 Stage 3 build at PowerNation TV.
Summit Racing Equipment
http://www.summitracing.com
1-800-230-3030