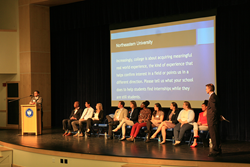 From the panel discussion...to the individual school presentations that followed, they got the chance to learn, explore and interact in a meaningful way with...11 leading colleges and universities
(PRWEB) November 07, 2016
On Thursday, September 29th, Lexington Christian Academy juniors and seniors had the opportunity to hear from and speak with admissions representatives from some of the area's most prominent universities. The 'College Night' event was hosted by LCA's College Advising department. The guests represented 11 institutions including Boston College, Northeastern University, Boston University and Gordon College. The event began in the Cross Center for Worship and the Performing Arts, where the visitors first answered questions relating to varying areas of the college experience. The representatives then split into classrooms for specific presentations and questions from LCA high schoolers.
"College Night 2016 was a tremendous success," said Rob Scaro, Director of College Advising. "We wanted to give our students and their families something more than what they would get at a typical fair. From the panel discussion with college admissions representatives that began the evening to the individual school presentations that followed, they got the chance to learn, explore and interact in a meaningful way with an amazing cross-section of 11 leading colleges and universities." Visiting University of New Hampshire representative Richard Haynes appreciated the chance to meet LCA upper school students, saying, "The students at Lexington Christian Academy were very aware of the college search process and truly understood the power of education."
Head of School Tim Russell was also delighted with the success of the program and the ingenuity that it was built on. "Newly appointed director Rob Scaro really shone tonight!" said Russell. "Rob was chosen because of his stellar academic background (Boston College, William and Mary, University of Virginia) and his expertise in the classroom. This experience fit him well to winsomely engage our students, as well as spur them on to apply to a wide selection of colleges and see them succeed."
LCA Senior Peter Walsh attended College Night and took full advantage of the experience he and his peers shared, noting, "I thought LCA's College Night was a nice way to get a taste of a wide range of schools. Many of the colleges I am applying to were at the event. This allowed me to ask questions in small groups, an opportunity I have not had until now."
Following this year's great success, plans are in the works for College Night to be held next year as well. With this opportunity behind them, LCA high schoolers are now all the more ready to find success in the college application process and beyond.
Lexington Christian Academy is an independent college preparatory school that exists to educate young men and women in the arts and sciences in the context of a complete commitment to the gospel of Jesus Christ.