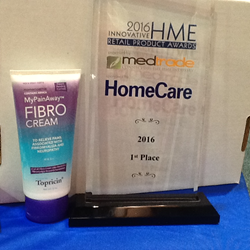 Our Fibro Cream enables us to help even more individuals - the millions of people suffering from Fibromyalgia
Rhinebeck, NY (PRWEB) November 04, 2016
Judges and attendees at the biannual Innovative HME Retail Product Awards, sponsored by HomeCare Magazine, tabulated the top three vote getters on November, 01 2016.
MyPainAway® Fibro Cream from Topical BioMedics (Booth #1767 at Medtrade) received first prize!
Patented and effective for treating the pains of fibromyalgia, MyPainAway® Fibro Cream is an odorless, moisturizing cream that brings a soothing combination of 11-natural biomedicines to rapidly relieve nerve and muscle pain of fibromyalgia at the cellular level assisting the body to heal the damage that causes the pain. The proprietary formula does not contain any parabens, petroleum, or other harsh chemicals, and it is free of counter irritants, like camphor, capsaicin, and menthol.
The cream stood on the podium with second place finisher The SoClean 2 CPAP Sanitizer from So Clean, described by marketing director Jessica Cormier as "the world's first automated CPAP sanitizer, and is the faster, easier, more effective way to clean CPAP machine equipment…."
And third place went to, The Tour (Walker) from Motivo, a walker/rollator that provides greater independence, ergonomics, and personal style.
"More manufacturers are helping us drive the retail component of our business through social media, advertising, point of purchase displays, and YouTube videos," says Cindy Ciardo, co-owner and CEO, Knueppel Health Care Services, and a judge in the competition. "All of that helps. And more companies are policing their pricing through minimum advertised price [MAP] policies. That is huge."
The awards are all about promoting and recognizing products that contribute to providers' bottom lines though retail cash sales. "We had a lot of excellent entrants this year," says Kevin Gaffney, group show director, Medtrade. "It was a tough decision, but our judges narrowed it down."
The top 8 products were presented in a retail awards conference session hosted by Jim Greatorex, who works in Business Development for the VGM Group. The session took place Nov 1 at 9:00 am. After manufacturers presented their products, voting took place to determine the top three winners.
A panel of judges, along with audience members, scored products based on:
1. Market opportunity/market size and product demand;
2. Innovation;
3. Price point;
4. Quality/design of retail packaging;
5. Merchandising tools;
6. Marketing campaign, helping the retailer reach the end users;
7. Competitive advantages over similar product/product quality;
8. Industry compatible: is it a match for HME retail; and
9. Training tools programs for in store sales staff.
Says Lou Paradise:
"MyPainAway® Fibro Cream is a natural extension of our flagship Topricin line of pain relief and healing creams, which have restored hope and quality of life to hundreds of thousands of pain sufferers since 1994…Our products bridge the gap between conventional care and well-researched natural medicine and have been shown to help reduce the need for and dependency on all classifications of oral chemical pain medications, including opioids....We are proud that, for over twenty-two years, the Topricin project has assisted people suffering with pain and helped their doctors to reduce the risks of addiction to painkillers while achieving a restoration of hope and robust healthy living. Our MyPainAway® Fibro Cream enables us to reach and help the millions of people, mostly women, suffering from the intense pain associated with Fibromyalgia."
MyPainAway® Fibro Cream is available in a 3 oz. tube (retail price $14.99) and 6 oz. tube (retail price $19.99), with 3% of the sales donated to fibromyalgia research foundations. It is available at CVS, Vitamin Shoppe, and other fine stores nationwide. For more information visit http://www.mypainawayfibrocream.com.
About Topical BioMedics, Inc.:
Topical BioMedics is a research and development leader in the transdermal application of natural biomedicines in combination, through its patented healing technology platform, Topricin. The company's flagship product, Topricin® Pain Relief and Healing Cream, was introduced in 1994 as an innovative 21st century approach of relieving the cause of pain at the cellular level by supporting an optimum healing response, assisting the body's desire to heal the damaged cells causing the pain. Topricin is now a leading natural therapeutic brand, both for active people and in patient care.
The products contain specialized formulations of 11-17 natural biomedicines, treating a wide range of pain ailments and awarded patents for the treatment of pain associated with neuropathy (diabetic and chemo-induced) and fibromyalgia. Topricin products are changing the way pain is diagnosed and treated and have become more widely used at world renowned medical centers - treating the cellular cause of pain reduces recovery time, less pain and suffering for the patient lessening the need for oral pain pills, which equals improved outcomes for patients and doctors.
This natural healing product line also includes; Topricin Foot Therapy Cream, specially formulated to treat the challenges foot and ankle pain issues. Topricin for Children, which received the Parent-Tested, Parent-Approved, Seal of Approval (with 5% of profits donated to a pediatric cancer foundation in NY State). The company launched the MyPainAway® (powered by Topricin) line of products. Its three new formulas MyPainAway Fibro Cream was formulated to provide viable pain relief for people with fibromyalgia, MyPainAway After-Burn Cream that treats the cells damaged by a burn, and MyPainAway Sports Cream with 17-natural biomedicines, targeting athletes, weekend warriors, and active people everywhere.
Topricin is proud to be, Made in the U.S.A., with lots of Love, pure biomedicines, no harsh chemicals, will not interfere with any other medicines making Topricin products ideal for the entire family, restoring hope and quality of life supporting a Healthy Active Lifestyle.
Topricin is available in independent pharmacies, natural food and co-op stores nationwide, including Whole Foods, Sprouts, Pharmaca, The Vitamin Shoppe, Fred Meyer, Wegmans, CVS, Walgreens (Diabetic Section), and other fine retailers, as well as directly from the company. For more information visit http://www.topricin.com.