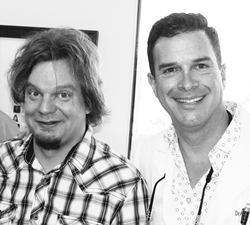 (PRWEB) November 04, 2016
International comic sensation, Ismo, http://www.ismoleikola.com/en, winner of the World's Funniest Person contest, dropped in on Dr. Jay Grossman's dental office in Brentwood the other day to show support for Grossman's 20 year Homeless Not Toothless charity, http://www.homelessnottoothless.org/. Ismo brought smiles to both the patients who were receiving free dental work and the dentists in training who were volunteering their time.
"The patients loved meeting Ismo and posed for pictures with real excitement," said Dr. Jay Grossman, who founded the charity in 1992.
Ismo, who is from Finland, enjoyed meeting both the patients and the staff and especially enjoyed laughing with the dental students. "This is a great charity and I felt humbled to be asked to support it."
The Homeless Not Toothless Charity is a 501C(3) non-profit program providing free dental care to the homeless and under-served. Presently, there are nearly three-dozen dental offices participating in the greater Los Angeles area. Most of the patients are referred by the Venice Family Clinic, the VA, LA Department of Family Services (DCFS Foster Care) and local shelters.