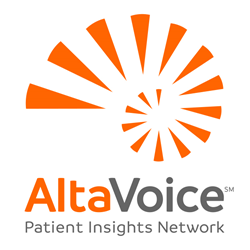 "Larger scale collaboration is what it will take to find treatments faster and drive down the cost of drug discovery," says Kyle Brown, CEO
Sao Paulo, Brazil (PRWEB) November 04, 2016
PatientCrossroads announced it has changed the company name to AltaVoice℠ and created a new brand identity aligned with its Mission: Amplifying the voice of patients to optimize the search for better treatments for disease. The move reflects the latest product innovations designed to deliver patient insights to drug developers faster, and for far less, than traditional registries and CRO organizations.
As part of the rebranding, the company coined the term "Patient Insights Network℠" to describe what distinguishes its online patient-centered approach from traditional clinician-centered and paper-based registries. AltaVoice PINs enable organizations to more efficiently build engaged, research-ready patient communities, recruit for trials, educate, and follow patients. As the name implies, AltaVoice works to raise the collective voices of patients and bring greater understanding of the symptoms, natural history, diagnostic process, quality of life and cost of living with serious health conditions.
The AltaVoice name change was announced at the Alianza Latina Annual Conference where ABRALE is expanding its program to include 125 cancer advocacy organizations from 21 Latin America countries in its PIN. "The ABRALE model of continent-wide collaboration revolutionizes research in a region where an estimated 600,000 new cases of cancer will be diagnosed this year, "said Kyle Brown, CEO of AltaVoice. "Larger scale collaboration is what it will take to find treatments faster and drive down the cost of drug discovery." In addition to saving time, the PIN model increases patient engagement, enabling companies to meet long-term follow-up requirements including those mandated by the FDA when it fast tracks new drugs.
The conch shell inspired design features angular orange segments that swirl in a motion to suggest rapid progress. "We chose the conch because it amplifies sound and represents the voice of patients sharing their journeys to inspire investigators and drug developers to act," said Jeff Marcus, Founder, Creative Director, Marcus Associates, the branding firm that created the new identity. "The use of patient images revealed behind the conch-shaped mark reflects the de-identification of data and privacy protection inherent in the AltaVoice model of putting patients at the center, in control of their data."
About AltaVoice
AltaVoice (formerly PatientCrossroads) is a patient-centered data company in Silicon Valley with an innovative business model that amplifies the voice of patients to optimize the search for better treatments for diseases. We build and host Patient Insights Networks (PINs). More powerful than a traditional patient registry, a PIN is a highly efficient way to build engaged communities, raise disease awareness, recruit for clinical trials, educate, and follow patients during every stage of drug development and commercialization.
AltaVoice serves as a trusted intermediary, connecting patients, advocacy organizations, clinicians, researchers and drug developers for the benefit of all. We deliver patient insights faster, and for far less, than traditional registries and CRO organizations. Since 2007, we have developed programs for more than 400 diseases through our work with over 100 advocacy groups, NIH, PCORI, biotech and pharmaceutical companies. For more information, visit http://www.altavoice.com.