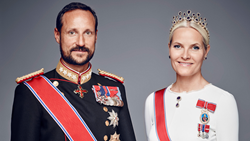 Canada and Norway enjoy a long tradition of friendly association
Ottawa, ON (PRWEB) November 04, 2016
Crown Prince Haakon and HRH Crown Princess Mette-Marit will be visiting Ottawa, Toronto, and St. John's Newfoundland in a state visit from November 7th – 10th. Prince Haakon will be accompanied by several representatives of the government and Norwegian industry. The visit will touch on business, technology and innovation, cultural / creative industries and Arctic issues. Plans for the visit include a meeting with Canadian Governor General David L. Johnston, and a Norwegian - Canadian symposium on areas of shared concern in the Arctic.
Industry and government officials from the two countries will attend seminars on Defense and Security, Norway and Canada in the Arctic, and Deep Water and Harsh Environments. Attendees and presenters will also include industry representatives from several Norwegian / Canadian ventures, including Kongsberg Geospatial, of Ottawa, Canada.
Ranald McGillis, president of Kongsberg Geospatial, an Ottawa-based developer of real-time, mission critical, geospatial visualisation software, will be making the closing presentation at the Arctic Defense and Security symposium – speaking on the topic of the Norwegian Defense industry and its approach to the Canadian market.
Mr. McGillis is uniquely positioned to understand the defense industry in both countries: Kongsberg Geospatial is a Canadian company, and a wholly-owned subsidiary of Kongsberg Gruppen, of Norway.
"Canada and Norway enjoy a long tradition of friendly association." explained Ranald McGillis, "The objective of this event is to gather relevant stakeholders from government and industry both nationsand engage in informal discussions in order create a favourable environment for enhanced Canadian-Norwegian cooperation."