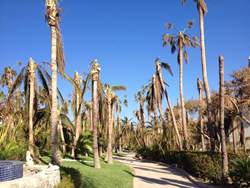 Having saved nearly 1,000 palm trees from being completely replaced at the recommendation of a contractor when Hurricane Odile devastated the One&Only Palmilla in Los Cabos, Mexico, we know the best course of action is to take a "wait and see" approach.
Kansas City, MO (PRWEB) November 07, 2016
After Hurricane Odile struck the One&Only Palmilla in 2014, the luxury resort's ownership faced replacing nearly 1,000 palm trees as advised by a local contractor. Instead, SKS Studio's specialized care approach resulted in saving all but a few of the palms. While guests can be sheltered and windows boarded, little can be done to protect a property's landscaping, which is left to withstand hurricane force winds, torrential rain and salt water storm surges.
After a devastating hurricane passes, resort owners assess damage and turn to SKS Studio, landscape architecture firm, for expert advice in restoring their palms, landscaping and canopy at a dramatic cost savings over replacement, as well as bring additional value to the restoration's end result.
The most important thing to remember about luxury resort landscaping is that it is far more resilient than you think. It takes patience for landscaping to fully recover.
"Having saved nearly a thousand palm trees from being completely replaced at the recommendation of a contractor when Hurricane Odile devastated the One&Only Palmilla in Los Cabos, Mexico, we know the best course of action is to take a "wait and see" approach. By giving the luxury resort's palm trees and landscaping specialized care and time to recover, we were able to keep the grand total of palm trees lost to just a few. Not the 800 to 1,000 the resort's managers and ownership expected at first evaluation by a contractor. Time and special care resulted in a huge cost savings for the One&Only Palmilla, plus it was the environmentally responsible thing to do and reestablished the landscape's existing canopy," explains Sean Simms, SKS Studio president. 
While immediate response is to cleanup and replace, if cared for and left to regenerate, landscaping is very likely to make a full recovery. Remember, palms and other warm weather plants are indigenous to hurricane prone regions. They have grown wild in these areas for thousands of years in spite of destructive hurricanes.
Simms offers the following commercial landscape restoration advice to luxury resort owners and municipality officials should a hurricane strike this season.
Prune aggressively
Landscape should undergo an aggressive pruning post-hurricane. While perhaps not as aesthetically pleasing as replacement, pruning expedites the recovery process. Palm trees' nuts should be drastically pruned and treated with a fungicide application. Unless a palm tree is broken in half or uprooted, let nature take its course after pruning and treating.
Flush with fresh water
Hurricane winds and ensuing storm surge can inundate plants with salt water, which causes plant and tree leaves to burn and turn brown. In other words, the landscape appears dead. Instead of rushing into replacement, flush the landscape with as much fresh water as possible to leach salt.
Assess associated damages and seek opportunities for enhancement
Trees fall over under the stress of hurricane winds and can uproot adjacent hardscape and cause structural damage. Once the hardscape is cleaned up for safety, an intensive restoration can begin, which opens the door for enhancing and upgrading hardscape systems. Associated damage to hardscape might fall under the resort or municipality's insurance coverage, though landscaping itself is typically not covered under an insurance claim. If hardscape is covered, this is an opportune time to refresh and update.
Irrigation systems and lighting are often storm victims, easily sustaining damage during a hurricane. They also represent two aspects of hardscape that when updated brings long-term efficiency and cost savings.
Update lighting to LED. Lower wattage LED lights are more energy efficient when compared to incandescent and halogen. They shine brighter, which better illuminates grounds. Plus, LED lamps are reliable and longer lasting, reducing the time and resources used replacing bulbs.
Install an efficient drip system for irrigation, which delivers water directly to the landscaping's roots. A drip system allows water to seep slowly into the soil. Since plants and trees are watered at the root level, water is not wasted via runoff or evaporation. Drip irrigation brings measurable cost savings on water expenses compared to sprinkler systems.
"Patience with landscape and updating hardscape after a hurricane is how resorts and municipalities preserve and keep the bones of their infrastructures intact versus tackling the expenditure of a total restoration. The goal is to quickly get staff back to work and draw guests or residents back to the area. Invite experts to the site with specific experience in landscape preservation. Beware of those too quick to replace landscape in its entirety. Instead partner with a landscape architect with a record for achieving quick re-openings and watching budgets," states Simms.
About SKS Studio
SKS Studio is a full-service, boutique master planning and landscape architecture firm, specializing in large-scale, mixed-use and hospitality related projects. Since 1997, the SKS team has participated in projects in more than 50 countries, totaling over $2 billion in construction, including The Royal Atlantis Dubai, Malliouhana Resort and Spa, Royal Towers at Atlantis, Halcyon Hotel and more. Visit http://www.sks-studio.com/ to learn more about the firm and their approach to landscape architecture around the world.