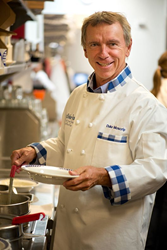 Veteran's Hospitals got my father back to functioning normally. Thank God, and bless the doctors for helping him to heal. My heart goes out to each and every veteran.
Seattle, Washington (PRWEB) November 07, 2016
On November 10, 2016 from 11 a.m. to 11 p.m., all six locations of Duke's Chowder House will be serving complimentary bowls of their award-winning All Natural New England Clam Chowder to veterans to celebrate International Chowder Day and bring the greater Seattle community together in honor of military troops—both active and retired—and their families. All other guests pay $1 for a small bowl. Duke's matches every dollar and donates the proceeds to Seattle Veteran's Hospital, part of the VA Puget Sound Health Care System.
Designated as International Chowder Day by the 2008 Mayor of Seattle, Greg Nickels, this year will mark the 9th annual celebration. The event seeks to raise awareness for the plight of American veterans, recognize their multitudinous sacrifices, and continue to honor their years of service.
Supporting American veterans is at the heart of all those associated with Duke's Chowder House. Duke Moscrip's father, the "Original Duke," served in the United States Navy for 35 years. A Navy pilot during World War II, he miraculously survived an airplane accident during a violent thunderstorm while training in Phoenix, Arizona. Unfortunately, his co-pilot was not so lucky and did not survive. Dukes says, "Veteran's Hospitals got my father back to functioning normally. Thank God, and bless the doctors for helping him to heal. My heart goes out to each and every veteran. The Veteran's Hospital mission statement is to 'fulfill President Lincoln's promise to care for him who shall have borne the battle;' and I can confidently say that the hospital certainly fulfilled that mission for my father."
Duke Moscrip; his son and business partner, John Moscrip; and Chef "Wild" Bill Ranniger are pleased to share their signature dish with regular patrons, chowder enthusiasts, and veterans alike. This dish sets the gold standard for clam chowder, winning over the judges and People's Choice Award for three years straight at the Seattle Chowder Cook-Off.
Those interested in learning more about veterans benefits visit:
http://www.va.gov/opa/publications/benefits_book.asp
To learn more about the Veterans Affairs CARE Program visit:
http://www.va.gov/icare
For media inquiries, contact Tina Carey at askbettina(AT)gmail.com.
About Duke's Chowder House:
Duke's Chowder House is a family owned and operated enterprise with six different locations throughout the Puget Sound region. Renowned for its Award Winning Clam Chowder, Duke's menu is filled with delectable seafood dishes crafted by Duke and Duke's very own Executive Chef "Wild" Bill Ranniger–a proclaimed culinary genius in the region. Founder and Owner Duke Moscrip – together with his son and partner John Moscrip – continue their passionate journey to source all wild, natural, healthy and fresh tasting ingredients. Duke's food is free of hormones, antibiotics and harmful chemicals. Duke's is an upscale, casual Pacific NW seafood concept offering signature, flavorful, 100% sustainable wild seafood, Award Winning Chowder and grass fed burgers. Guests sum up their favorable assessment of what Duke's Chowder House has to offer with three words: "It's sooo good!" Duke's is honored to have received the highest seafood restaurant rating in the State of Washington by Fish2Fork, a leading evaluator of worldwide seafood restaurants, garnering a 4.5 out of 5 (no higher rating in the world). Duke's is equally honored to be among the first restaurants in Seattle to be recognized with a 100 percent volume compliance sustainable seafood rating from Smart Catch, a program designed to promote sustainability and raise consumer awareness regarding sustainable seafood options. Learn more at http://www.dukeschowderhouse.com/.