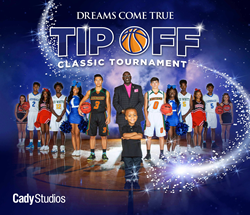 "...A great way to unite the community," said Tammy Talley on the Dreams Come True Tip-Off Classic.
Jacksonville, FL (PRWEB) November 14, 2016
The basketball tournament, set to begin Tuesday, November 15 through Wednesday, November 16, will bring four Duval County schools together to send Dreamer Mikale Smith and his family on an all-expense paid trip to Disney World in Orlando, Florida in celebration of Smith's third birthday and remission of his illness, myoblastoma.
"We are extremely excited to celebrate MiKale," County Athletic Director Tammy Talley stated. "What could be better than being healthy, celebrating a birthday and going on a dream vacation with his family?"
Dreams Come True offers opportunities for donors to make children's dreams come true by raising funds for children battling life threatening illnesses. Each school has the goal to raise $625 each to contribute to the total goal of $2,500.
"With DCT it's given our student-athletes a chance to get involved and it is such a great way to unite the community," Talley said. Mandarin High School will host the preseason classic the evening of the 15th with a tip-off start time of 530pm, and the second game beginning at 7pm. The birthday festivities are set to commence between games featuring a birthday celebration given to Smith by tournament team participants from Robert E. Lee, Ed White, Westside and Mandarin High Schools and players from Jacksonville University.
The second evening of the tournament will highlight other Dreamers and their families, as well as a dribbling contest. All promotional materials featuring Smith, the preseason classic basketball players and cheerleaders were created by Cady Studios for marketing purposes in efforts to raise awareness and promotion for the event.
For more information on the Dreams Come True Tip-Off Classic or how you can be involved, contact Tammy Talley at (904)858-6142.
####
Cady Studios began as a family-owned school photography business in 1999 on a mission to redefine school portraits. With schools, parents and students as the foundation of the business, Cady Studios strives to deliver experiences that exceed photography expectations beyond what is imaginable. For press related information, contact Olivia Moody or visit http://www.cadystudios.com.