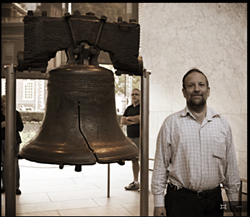 New York (PRWEB) November 07, 2016
Yeshiva University ordained Rabbi Shaul Gromer has launched a new website for the meaning and understanding of biblical code with the election revelation that not only will Trump be the next President of the United States, but in fact, will be re-elected in 2016. Gromer affirmatively asserts that Trump has got a Biblical code that points to this outcome in many different ways.
Gromer states, "It's a Jewish belief is that all events of this world are found within the Torah. The Torah or Bible is a textbook or testimony of the world we are living it today-nothing 'outside' is not directly alluded to 'inside'. The more one studies Biblical text without the right glasses- the more one is comforted that there is order and purpose to everything around us."
Based on an elaborate code, Gromer asserts that no matter how distasteful statements Trump has made are, America should get ready to see him as the leader of the free world for not only four years, but for a full eight year term.
Within the code there is a connection made between one of the candidates and the biblical story of Moses being to be given the license to enter the land and is still turned down. This was on account of prior transgression. So too, Hillary Clinton who despite her desire and effort to 'enter the land' will not be allowed to go there due to her past flaws in leadership. Finally, the biblical Torah code also reveals former presidential candidate Ted Cruz reappearing after eights years time and being elected President in 2020.
"By seeing the way the Biblical text matches up with the current event, one is given a deeper insight into what is going on from a whole other perspective," Gromer asserts. He has started a non-profit organization, Torah Treasure House, dedicated to merging the wider outside world with the perspective of Torah, approachable by Jews and Gentiles alike.
Much of his research on these biblical codes and how they can accurately tell us not only who will be President, but highlights and pitfalls of their term, will be soon be released in a new book by Gromer presently entitled, Presidential Prophecy. An excerpt of the book is online at http://www.torahtreasurehouse.com.
Rabbi Shaul Gromer has broadcast radio shows for over 20 years spanning the New York tri-state and beyond. He has lectured to Jews and Gentiles alike on ways to incorporate the Bible teachings into one's life. He is available for interview by phone, in person, and for limited speaking engagements. For more information, contact 1-646-902-6496.