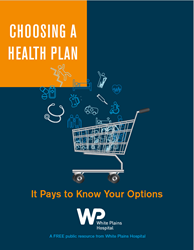 It's important to consider how much coverage you might need, how much your monthly premium will cover, and what you may be responsible for if you have a significant health event.
White Plains, NY (PRWEB) November 07, 2016
HMO's, PPO's, co-pays, co-insurance… Yes, open enrollment time is here, a time when millions of consumers will be overwhelmed with complex information on policies, premiums, and coverage that can have dramatic financial implications down the road. To clear confusion and help with decision-making, White Plains Hospital is offering a free, downloadable guide for consumers to help them make informed decisions. The guide is available through the Hospital's website at http://www.wphospital.org/insuranceguide.
"Choosing A Health Plan: It Pays to Know Your Options" offers the following information:

Tips for estimating how much coverage you will need
Financial strategies for funding expected healthcare costs
The risks and benefits of choosing a High-Deductible Health Plan
A glossary of key health insurance terms
How provider networks work and what they cover
The guide was written to help consumers make more informed health plan choices, whether they purchase coverage through their employer or on the New York State of Health marketplace. "Our goal is to help people in the community avoid unexpected healthcare costs," says Joseph J. Guarracino, CFO of White Plains Hospital. "Whether you are using an employer-provided plan, or evaluating coverage on the health insurance exchange, it's important to consider how much coverage you might need, how much your monthly premium will cover, and what you may be responsible for if you have a significant health event."
Since the Affordable Care Act created state health insurance exchanges, the number of people with health insurance has grown. In 2015, the percentage of people without health insurance coverage for the entire calendar year was 9.1%, or 29 million, lower than the rate and number of uninsured in 2014 (10.4% or 33 million), according to the US Census Bureau. The US Census also notes that the percentage of people with health insurance coverage for all or part of 2015 was 90.9%, higher than the rate in 2014 (89.6%). But, as more and more consumers are getting the health coverage they need, the decision-making process is difficult and available information is hard to comprehend. A 2016 Harris Poll reported on PlanSponsor.com found that nearly half (49%) of employees eligible for employer-sponsored benefits said making health insurance decisions is "always stressful," and 41% of employees found their companies' open enrollment process "very confusing."
The health insurance guide can be downloaded through the White Plains Hospital website, and will be available in waiting rooms at the Hospital, and through its outpatient medical facilities in New Rochelle and Armonk through the end of January 2017.
About White Plains Hospital
White Plains Hospital (WPH) is a proud member of the Montefiore Health System, serving as its tertiary hub of advanced care in the Hudson Valley. WPH is a 292-bed not-for-profit health care organization with the primary mission of providing exceptional acute and preventive medical care to all people who live in, work in or visit Westchester County and its surrounding areas. Centers of Excellence include the Center for Cancer Care, The William & Sylvia Silberstein Neonatal & Maternity Center and The Ruth and Jerome A. Siegel Stroke Center. The Hospital's Flanzer Emergency Department is the busiest in Westchester County, seeing nearly 57,000 visits a year. White Plains Hospital performs lifesaving emergency and elective angioplasty in its Joan and Alan Herfort, M.D. Cardiac Catheterization Laboratory and Marie Promuto Cardiac Catheterization Laboratory. White Plains Hospital also has outpatient medical facilities in Armonk and New Rochelle. The Hospital is fully accredited by the Joint Commission and earned its recognition as a Top Performer for Key Quality Measures® in 2015 and 2013. The Hospital is also an eleven-time winner of the Consumer Choice Award, an honor given to the nation's top hospitals by the National Research Corporation, and received Magnet® designation in 2012 from the American Nurses Credentialing Center (ANCC). In 2014 and 2016, White Plains Hospital received the Outstanding Patient Experience Award from Healthgrades®, given to only 10% of hospitals nationwide. For additional information, visit http://www.wphospital.org.