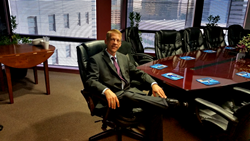 Thanks to the large success of the OnePortal Rapid presence in Dallas, we are in the final stages of preparations for opening new data center locations to strengthen our network presence across America.
Dallas, Texas (PRWEB) November 08, 2016
Limestone Networks, a leading cloud IaaS and dedicated server hosting provider, recently marked the one year anniversary of their new leadership team and celebrated their achievements thus far while announcing future intentions of expansion beyond their Dallas, Texas data center.
Milestones of the last twelve months under the direction of new CEO, Steve Evans, and Vice President, Preston Gosdin, included the fast release and deployment of the latest processors, a new OpenStack based platform, expanded technical and customer support services, and the offering of colocation services. The Board of Directors appointed Steve Evans as the Chief Executive Officer and President after he had served as Vice President and General Counsel for the previous three years. New opportunities, new products and services, as well as a new emphasis on expanding services and locations, led the Board of Directors to select Steve Evans to lead and direct the company and much of the new business plan has been implemented, and is available to Limestone Networks' customers.
Limestone Networks' CEO Steve Evans said, "I am thrilled to lead Limestone Networks in our mission of Simple, Solid, and Superior. We have a strong foundation of experienced employees and product offerings that have allowed us to become a fast-growing dedicated hosting and cloud provider. In the last year we have been able to move products and services from the planning and development stage to reality without sacrificing current services and upgrades. Together we are changing the future and direction of Limestone Networks and bringing personalized support, quality products, and new offerings to those looking for customization, and more individual attention than offered from the large scale companies out there."
Preston Gosdin was promoted from Director of Operations to Vice President during this same time period bringing a results-oriented approach with a goal of moving the company to ever innovate and create new offerings and products. Preston Gosdin said, "I am excited at the opportunity to help lead Limestone Networks. I am excited to work with this team and shareholders to focus on our existing strengths while helping shape this company with new goals, products, and services for the future."
This new team hit the ground running by releasing their new OnePortal Rapid, an OpenStack based platform, and offering colocation services within their Dallas location. "Thanks to the large success of the OnePortal Rapid presence in Dallas, we are in the final stages of preparations for opening new data center locations to strengthen our network presence across America," said Preston Gosdin. "Our customers not only rely on us for customizable services not provided elsewhere but for services that continue to grow with them and their business on an every day basis," CEO Steve Evans said, "this new OnePortal Rapid cloud computing has all of the benefits of cloud hosting, with instant provisioning, scalability, flexible billing, but it is even more customizable than the bare metal hardware builds we have been doing for years."
Limestone Networks' clients already receive superior support and now they will be able to tap into the new resources and services being implemented. These developments will complement their public cloud, OnePortal Rapid and dedicated bare metal server hosting, as well as a variety of customizable hosting and colocation services, backed by 24/7 online support.
Limestone Networks is dedicated to taking its clients and their businesses seriously to assist them to that next level of performance and will continuously strive to make changes and innovations in order to do so. The new leadership and management team is focused on the future while still upholding the Limestone promise of Simple. Solid. Superior. Join Limestone Networks as they build upon the excitement of their new leadership and direction to offer even more personalized solutions for you now and in the future.