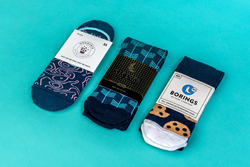 Our new products give customers the opportunity to up their sock game in a way that fits their needs.
Dallas, Texas (PRWEB) November 07, 2016
As seen on ABC's Shark Tank, Foot Cardigan is the sock subscription service that brings you on-trend, funky socks delivered to your mailbox each month. Now the brand is further taking over your sock drawer with the launch of three new styles added to their product offerings: Tip Tops at $15 per month for men, Borings at $9 per month for men, and Houdinis for men and women at $9 per month each.
Houdinis are a collection of no-show socks to keep the line of funky prints and patterns discreet beneath your shoes, Borings are targeted for those who like to play it safe with a solid color on the top and design remaining on the foot only, and Tip Tops are for those seeking socks on the luxury end of the scale utilizing a luxe, modal fabric and more sophisticated patterns and prints.
Foot Cardigan provides sock subscriptions for men, women, and kids, and one-time purchase options available in its Mytropolis city and Small Batch collections. The expansion of product styles was an anticipated release to reach an even wider audience of sock buyers.
"Almost everyone wears socks, so our new products are designed to appeal to everyone," explained Foot Cardigan CEO, Bryan DeLuca. "Our standard subscription offers a range of designs — from planets to robots. We understand not everyone is up to wearing crazy designs, and different occasions require different socks. Our new products give customers the opportunity to up their sock game in a way that fits their needs."
Foot Cardigan's new Houdinis, Borings, and Tip Tops are now available for 3-month, 6-month, 9-month, and yearly subscriptions on FootCardigan.com. The subscription includes one pair of socks each month, with a surprise design created by the Foot Cardigan team.
Learn more about Foot Cardigan and view all products available for purchase at FootCardigan.com and on Instagram @footcardigan.
About Foot Cardigan
Launched in 2012, the Dallas-based sock subscription offers fantastically fantastic socks for adults and kids — all conveniently delivered to mailboxes worldwide each month. In addition to sock subscriptions, Foot Cardigan also provides a Small Batch of limited-edition designs and Mytropolis city collections. The funky designs that subscribers of all ages love are designed by the Dallas-based Foot Cardigan team.
# # #