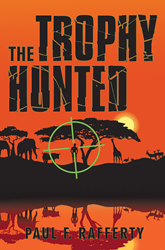 Los Angeles, CA (PRWEB) November 07, 2016
The endless news surrounding Cecil the Lion's death stirred a dream in Paul F. Rafferty that inspired his new novel.
"The Trophy Hunted" tells the story of Jack, a trophy hunter who flies to Africa to hunt down a Black-Footed Silk Ape, a supposedly mythical creature. Jack soon spots the ape on his hunt and takes its life.
It isn't until Jack is captured by other hunters and brought to Homo Sapien Ranch that he realizes he is no less an animal than the ape he killed. As Jack runs for his life from the hunters who want to capture him across their weapons' crosshairs, he realizes the consequences of trophy hunting.
Cecil, a beloved lion and main attraction at a national park in Zimbabwe was shot and killed by a trophy hunter last year. The news of Cecil's death shocked Rafferty along with many others around the world, opening the dialogue to conversations about the impact of trophy hunting.
"I was so impacted by Cecil's death that I knew I had to write a story about it," Rafferty said. "I also know that many others were affected by Cecil's death and this is my way to bring justice to those who still look for it."
In "The Trophy Hunted" readers will wait in anticipation for the conclusion of Rafferty's tale to discover Jack's fate.
"The Trophy Hunted"
By: Paul F. Rafferty
ISBN: 978-1-4917-9806-5 (sc); 978-1-5320-0267-0 (hc); 978-1-4917-9805-8 (e)
Available at the iUniverse Online Bookstore and Amazon
About the author
Rafferty currently works as a trial lawyer at the largest law firm in the country. His hobbies include acting in short films and racing motorcycles and cars. Rafferty lives in San Juan Capistrano with his wife of twenty-five years. For more information about the author and his book, please visit: http://www.thetrophyhunted.com.
# # #
Review Copies & Interview Requests:
LAVIDGE – Phoenix
Maggie Driver
480-998-2600 x 584
mdriver(at)lavidge(dot)com
General Inquiries
LAVIDGE – Phoenix
Courtney Coombes
480-998-2600 x 612
ccoombes(at)lavidge(dot)com