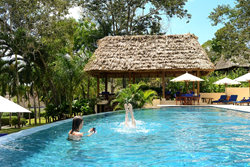 it's a pleasant trip from Canada with no need to overnight in a US city.
San Ignacio, Belize (PRWEB) November 09, 2016
The introduction of new air service to Belize was announced just in time for winter vacations, and brings the sparkling Caribbean beaches, majestic rainforests and ancient Maya temples of the popular tourism destination closer to Canadian travellers, the Lodge at Chaa Creek's reservations administrator said.
Elsie Pacheco said the announcement from WestJet Air is also timely in helping travellers plan next year's Belize vacations.
"It's a real game-changer for many Canadians and will undoubtedly influence their holiday plans. One of the many reasons Belize is so popular with travellers from the US is the ease of getting here, and now many Canadians are set to enjoy similar benefits," Ms Pacheco said.
The Calgary-based airline initiated a twice-weekly service from Toronto's Pearson International Airport to Philip Goldson International Airport in Belize City on October 29, becoming the first Canadian carrier to fly directly to Belize, according to a Caribbean Journal report.
"Leaving Canada and hitting the beaches in Belize by mid-day is something that Canadian travellers are not used to and we have absolutely changed the game with our twice-weekly service from Toronto," WestJet Executive Vice-President Bob Cummings said.
"We look forward to offering both Canadians and Belizeans the chance to experience WestJet's low fare, high care service over the winter months," he added, while extending "…a big thanks to our WestJet team, the Minister of Tourism and Civil Aviation as well as the Belize Tourism Board for their support in the creation of this significant route."
The inaugural WestJet flight landed at Belize's Philip Goldson international airport on October 29, 2016, in what Ms Pacheco said was a "Boon for Canadian and Belizean travellers.
"Belize has always had a strong relationship with Canada. In addition to tourist arrivals, there is now a fair-sized Canadian expat community in Belize, and a number of Belizeans have migrated to or visit Canada, and this direct air service will come as welcome news to many people," she said.
While Americans account for Belize's largest segment of visitors, Canadians make up some seven per cent of arrivals, according to Belize Tourism Board data.
Ms Pacheco said that Chaa Creek, in addition to being one of Belize's first and most popular eco-resorts, has provided relocation and retirement advice to Canadian and American citizens for decades, and said the new WestJet service will be invaluable in helping people visit Belize for both vacations and "fact finding holidays."
"Now, with direct flights from Toronto, and Tropic Air's local air service to the Maya Flats Airstrip, which is literally at Chaa Creek's front door, it's a pleasant trip from Canada with no need to overnight in a US city, which was previously the case for many Canadian travellers.
"This winter, Canadians can be breakfasting in freezing weather with snow outside and then be enjoying dinner with balmy breezes and an evening swim, which should help take the sting out of a long northern winter," she said.
Ms Pacheco said that Chaa Creek, known as Belize's "Destination within a Destination" due to its wide range of accommodations, many amenities and activities within a 400 acre private nature reserve, has always been popular with visitors from Canada, and is expecting to welcome more Canadians now that direct travel has become easier.
"Because of our reputation as the 'one stop shop' for all things Belize, we expect to be helping more Canadians discover our country next year. With Chaa Creek's extensive range of tours, and our partner resorts on the Belize Great Barrier Reef and Belize's Caribbean coast and cayes, we offer seamless 'Rainforest to Reef'all-inclusive Belize vacation packages that allow visitors to combine an inland jungle and Maya temple exploration with a Caribbean beach holiday that's surprisingly easy and affordable.
"We're excited to offer new features like a Cultural Grand Tour as well as a vacation package with a luxury hotel in Guatemala to make exploring the ancient Maya city of Tikal comfortable and hassle free, and with our new Ix Chel Luxury Rainforest Villas set to open, this announcement from WestJet couldn't come at a better time for our valued Canadian visitors," Ms Pacheco said.
The WestJet Boeing 737 flights, which depart Toronto at 9:15 a.m. and arrive in Belize City at 11:59 a.m., are scheduled to run until April 29, 2017.
"We're looking forward to watching a greater number of Canadians swapping their snow boots for swim suits this year," Ms Pacheco said.
The Lodge at Chaa Creek is a multi award winning eco resort set within a 400-acre private nature reserve along the banks of the Macal River in Belize.