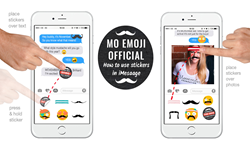 What better way to Make Movember part of the banter between friends than emoji? Nathan Barker, Visixtwo.com creators of Mo Emoji
(PRWEB) November 05, 2016
Starting today the public can download Mo Emoji- Official, free of charge from the Apple iMessage store. The Mo Emoji pack contains a set of Movember inspired emoji, badges showing support, participation and a variety of moustaches which can be used to enhance photos and messages.
The Emoji can be used both in messages and utilises the new "peel" feature which allows them to be "peeled" and placed anywhere in text or layered onto photos to create fun collages.
"What better way to Make Movember part of the banter between friends than emoji? As they want people to donate to the Movember Foundation then congratulate a Mo and get ready to Move"
"Mo Emoji- Official is only available throughout November so download them now. Have some fun with every message you send and don't forget to congratulate a Mo"
Nathan Barker CEO of Visixtwo.com.
Mo Emoji and Move Emoji were created by Visixtwo.com of Manchester-England, for fans to support and congratulate moustache growers for the Movember Foundation and to promote Move the active lifestyle initiative.
Notes:
6 Billion Emoji are sent everyday, with millennials using emoji in 50% of messaging and social media.
iMessage is the messaging facility of Apple smartphones and the Mo Emoji are downloaded from the newly launched iMessage App store.
Users can access the store by pressing the Blue App symbol in their chat window and selecting "+" Store.
Those receiving a message containing Mo Emoji will also see a link "attribution link" that they may press to install the emoji to their own devices if they do not have them already.