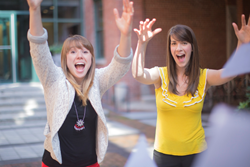 Toronto, Ontario (PRWEB) November 07, 2016
Food Profit Group is participating in a television program put together by One Million Acts of Education and its partners. The program connects companies working on artificial intelligence with 8 investors while over 3 million viewers watch the program.
"A platform like this allows companies like ours to make a difference to the communities we would like to serve. It really helps us make restaurants smarter... In this particular case, it's also an opportunity to access $3 million in investment, access potential customers as well as an instant opportunity to impact our brand. We are hoping that by the end of the show we will have at least 300 restaurants engaged in our vision and program," says David Jonah, CFO, Food Profit Group.
"After putting these organizations through a television program, we are inviting them to go through a very unique executive educational program where we connect participating AI companies with international lawyers, accountants and consultants to help them avoid operational risks and have unique tools and skill sets to exponentially grow their organizations," says Taimour Zaman – founder of One Million Acts of Education.
The Toronto show airs on November 26th and 27th. The following episode is televised in Time Square in New York on March 16th and 17th of next year.
For More Information Click Here.
For more information, please contact Taimour Zaman at (416)489-9541