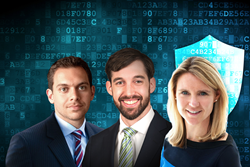 Join iConstituent for expert forums on cyber security, Nov. 15 and Nov. 30, 5-6:30 p.m. in Washington, DC.
Washington, DC (PRWEB) November 07, 2016
Government software leader iConstituent today announced two post-election cyber security forums featuring experts from Good Harbor Security Risk Management and the Brunswick Group. Good Harbor is a trusted advisor to CEOs, Boards, CISOs, investors, and government leaders on cyber security risk management. The Brunswick Group is an advisory firm specializing in corporate relations, and its Cybersecurity and Privacy Practice focuses on cyber communications preparations and cyber crisis response, as well as thought leadership campaigns.
"From Wikileaks to breaches of election databases, the past year has forced cyber security into the spotlight like never before - and government leaders must become experts at anticipating and mitigating risk," said iConstituent CEO Zain Khan. "The next administration will face ever-evolving threats and will have to balance security and privacy as well as corporate pushback on encryption. These forums on cyber security will help new members of Congress and their staffs - as well as private sector leaders facing increased risks in a global market - quickly get up to speed on these crucial issues."
iConstituent will host two conversations with Good Harbor's president Emilian Papadopoulos and director Evan Sills, and Siobhan Gorman, director of Cybersecurity and Privacy at Brunswick Group, on Nov. 15 and Nov. 30, at iConstituent's Pennsylvania Ave. offices in Washington, DC. The forums, "Cyber Security Threats and Trends," are open to all government staff and will be broadcast live in a Telephone Town Hall broadcast by Broadnet TeleServices.
Event registration is required.
Register for the November 15 event.
Register for the November 30 event.
About the panelists:
Siobhan Gorman is a director in the Washington, DC, office of Brunswick Group LLC, focusing on cybersecurity and privacy. She specializes in breach preparedness, breach crisis response, and thought leadership initiatives in the cybersecurity arena. Prior to joining Brunswick, she had a successful career as a reporter, most recently at The Wall Street Journal where she covered topics such as cybersecurity, data and privacy issues, terrorism, counterterrorism, and intelligence. She has been nominated three times for the Pulitzer Prize and is a graduate of Dartmouth College.
Emilian Papadopoulos is president of Good Harbor Security Risk Management, a premiere cyber security risk management advisory firm. Emilian advises Boards, CEOs, investment professionals, and government leaders on managing cyber risk. He has helped clients across sectors including energy, insurance, law, technology, defense, and manufacturing. Before Good Harbor, Emilian worked for Foreign Affairs Canada and for the Canadian Embassy in Washington, D.C., where he helped launch the Embassy's Connect2Canada diaspora outreach program. Emilian is a graduate of the University of Toronto and received a Masters of Public Policy from the Kennedy School of Government at Harvard University.
Evan Sills is a director with Good Harbor Security Risk Management, where he advises corporate executives and boards of directors on cyber risk management, helps clients prepare for crisis and incident responses to cyber incidents, and reviews cyber-related legislative and regulatory activities. He was the editor of "A Playbook for Cyber Events," a project of the American Bar Association's Standing Committee on Law and National Security. He is currently a member of the Global Governance Futures 2027 Fellowship. Evan is a graduate of the George Washington University Law School and Elliott School of International Affairs.
About iConstituent: iConstituent connects people and government through industry leading software. It brought the first e-newsletter to Congress in 2003, and provides CRM, email, telephone town hall, and other IT services to hundreds of government offices across the U.S.