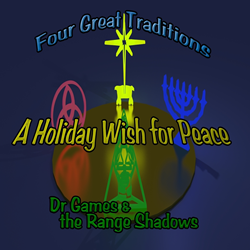 The Gift of Music and Peace from Dr G's Musical Family to Yours
Washington, DC (PRWEB) November 08, 2016
Dr G & the Range Shadows released their seventh album last week, A Holiday Wish for Peace, and this one was a special work of love by the group. The band is known for using traditional instruments in non-traditional ways to give its songs a special feel.
This album is a bid for peaceful reflection and a coming together in friendship and brotherhood. There has been so much divisiveness in the world during 2016 that the band would like to see a genuine effort to work towards harmony and happiness. Movements such as Black Lives Matter, and increased awareness of multicultural opportunities from trusted sources like Scholastic made this a great time for the band to produce this work of love.
This album has some well known Christmas and Hanuka songs along side a Kwanzaa theme (using African and Caribbean instruments) as well as some, new Solstice songs.