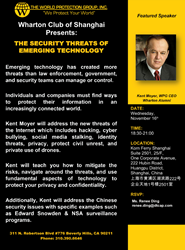 (PRWEB) November 06, 2016
Kent Moyer, CEO & President of the World Protection Group (http://worldprotectiongroup.com/) & 001- http://001wpg.com will address the new threats of the Internet at the Wharton Club in Shanghai China on Wednesday November 16th.
Moyer will address how emerging technology has created even more threats than law enforcement, government, and security teams can manage or control. These threats include hacking, cyber bullying, e-mail hacking, social media stalking, identity threats, privacy, protect civil unrest, and private use of drones.
Moyer will teach individuals and companies how to mitigate the risks, navigate around the threats, and use fundamental aspects of technology to protect their privacy and confidentiality. Moyer will also be addressing the Chinese security issues with specific examples such as Edward Snowden and NSA surveillance programs.
An expert in the field of security, Moyer will introduce 001 during his time in Shanghai. Developed by Moyer, 001 is the only luxury Executive Protection Company of its kind. Operating at the highest level of efficiency, discretion, and service, 001 meets the needs of the client, both personally and professionally, distinguishing itself from other protection agencies in the industry. Moyer understands that while financially successful people possess exceptional business expertise, they are missing the necessary knowledge of Executive Protection and security.
Building upon the established World Protection Group, with headquarters in Beverly Hills & offices in Shanghai, China, New York, & Mexico, Kent Moyer decided to break ground and create the first luxury Executive Protection Company, with a focus on sophistication and class, for an international audience.
001 will be offering exclusive memberships to a limited number of clients, based on a private referral basis, in order to maintain the integrity of their commitment and focus.
For more information on 001, please visit (http://001wpg.com) or call 1.866.550.4319 (International Telephone).