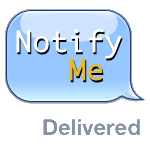 Send timed texts easily.
Arlington, VA (PRWEB) November 08, 2016
NotifyMe makes sending timed text and email messages easy.
As a group administrator, simply create groups and send out links to anyone who might be interested in receiving messages about that group. Once people start subscribing to the group, they can receive messages for the group right away. Subscribers will be alerted via text message and/or email, depending on their preferences. This takes the headaches out of managing groups.
Pricing and Availability:
NotifyMe allows the administrator of a group to purchase blocks of transmissions according to their budget. It is less than three cents to send each message, so a little money goes a long way communicating with your groups.
Founded in 1998, Hendrickson Software Components (hsc) offers a variety of software products and components, including Purify, Email Compass, Spell Checker, and an assortment of developer software components. hsc also offers custom software development and consulting services. The company is based in Arlington, Virginia and can be contacted online at http://www.hendricom.com.
###