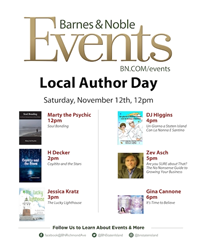 Four Boulevard Books Authors at Barnes & Noble Staten Island, Nov. 12, 12-5
Staten Island, New York (PRWEB) November 08, 2016
On national Authors Day Barnes & Noble Staten Island will be hosting four Boulevard Books authors as they discuss their newly released books. The featured writers will be as follows: Soul Bonding by Marty the Psychic at 12:00 noon; The Lucky Lighthouse by Jessica Kratz voted Staten Island's Best Writer in 2016, at 3:00 pm; Un Giorno a Staten Island Con La Nonna E Santino by award winning film maker DJ HIggins; and Are You Sure About That- Grow Your Business By Challenging Conventional Wisdom by entrepreneur Zev Asch.
Barnes & Noble Staten Island under the management of the pioneering Joan Correale has been at the forefront of community minded book sellers. Barnes & Noble Staten Island is located at 2245 Richmond Ave, SI, NY 10314
Boulevard Books works with fresh new voices who are saying something new to the community. As a psychic medium, Marty the Psychic has worked with police as well as individuals for over twenty years. Jessica Kratz, voted best writer on Staten Island in 2016, is a poet and park ranger encouraging conservation through art. DJ HIggins is an award winning film maker and Italian teacher, This is his first book. Zev Asch is a change making agent who has encouraged family companies in all fields.
Founded in 2010 by author and educator, Avi Gvili, Boulevard Books is an educational publishing company that aims to publish the newest voices of the 21st century. We empower authors with ownership of their work by offering 100% royalties, an unprecedented royalty rate in the industry. We strive to replace the historically exploitative publishing industry with a more equitable framework that, for the first time in history, honors the author with a more just compensation structure.