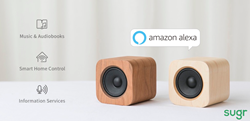 "The combination of great speaker design with the smarts of Alexa was a natural fit." Aaron Brown, Director of Alexa
Dallas, TX (PRWEB) November 08, 2016
Sugr, a global innovator in high-definition Wi-Fi audio systems, today announced that it has been working with Amazon to bring the Alexa Voice Service (AVS) to their Sugr Cube minimalist Wi-Fi speaker, beginning in November. With a simple double tap of the Sugr Cube, the Wi-Fi speaker is transformed from a high fidelity audio system into a powerful information and services portal powered by Alexa.
Sugr Cube brings beauty and convenient wireless audio into the home with an elegant modern minimalist design surrounding a precision engineered audio system to provide an immersive music experience in any room. Unlike the limitations of Bluetooth, Sugr Cube uses Wi-Fi to deliver a faster, more stable experience for streaming music and Internet radio.
Sugr Cube is inspired by the subtle beauty of modern minimalism. Designed without buttons, playback control is achieved with simple touch and rocking motions or by using the app. Unlike other wireless speakers, Sugr Cube is made with real wood that looks natural and feels pleasant to the touch. It delivers music with beautiful sound quality and maximum convenience. Sugr Cube's customized neodymium full-range driver delivers lush sound and it is the first speaker of its kind to use a bass-reflex acoustic chamber and wood housing for booming bass that can be heard and felt.
Sugr's advanced Wi-Fi technology already enables high quality wireless audio streaming from the world's most popular music services including Spotify, QQ Music, and thousands of Internet radio stations, as well as personal music libraries on Apple or Android devices using Airplay or DLNA. With Alexa, you'll now be able to voice-control some of those services including Amazon Prime Music, iHeart Radio and TuneIn Radio. Sugr Cube has on-board memory for music storage of 500 songs, 24 hr. battery life and hand-held portability to take music anywhere in the home.
The Cube with Alexa works with a simple double tap on the speaker and a voice request. Sugr Cube owners can now get the top news headlines, weather, sports, information and answers to questions. Alexa can also play music, control smart home devices, order a pizza or request an Uber. With Sugr Cube and Alexa, the possibilities are practically endless.
"Our loyal fans have become accustomed to the Intangible Interface of Sugr Cube and the ability to stream high fidelity music throughout their homes. With Alexa, the new Sugr Cube is transformed into a smart speaker. Now, our users and their families have a helpful service always ready to answer a question, assist with tasks, or control a smart home. The power of Alexa is astounding and we are proud to be able to offer it with Sugr Cube" said Sean Song, CEO Sugr.
"Sugr Cube is a sleek and innovative speaker and we're excited to work with the company to bring Alexa to its customers," said Aaron Brown, Director of Alexa. "The combination of great speaker design with the smarts of Alexa was a natural fit."
In addition to premiering Alexa on the Cube, Sugr is planning to offer a software and hardware total solution to companies that wish to integrate the Alexa Voice Service (AVS) into their products. The module will help make the Alexa integration easy and cost effective for makers of speakers, wearables, smart home appliances and other tech devices.