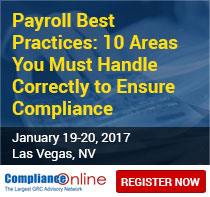 Payroll Best Practices: 10 Areas You Must Handle Correctly
Palo Alto, CA, USA (PRWEB) November 07, 2016
ComplianceOnline, the leading governance, risk and compliance advisory network with over 500 experts in various regulatory subjects, today announced a seminar on Payroll Best Practices: 10 Areas You Must Handle Correctly to Ensure Compliance. The one and a half day seminar led by renowned payroll expert Vicki M. Lambert will be held on January 19 and 20, 2017 in Las Vegas, NV.
This seminar will highlight the best practices to comply with the various laws and regulations in 10 strategic compliance areas that are the key targets of government audits or considered the most misinterpreted when paying employees .It will also cover key areas to examine when payments are made to employees through AP such as prizes, bonuses, awards or gift cards. Attendees will learn best practices for setting up a system to track, report and remit wages considered to be abandoned.
For more information or to register for the seminar, please click here.
Seminar Instructor Vicki M. Lambert, CPP is President and Academic Director of The Payroll Advisor™, a firm specializing in the training of payroll professionals. With over three decades of hands-on experience in all facets of payroll functions as well as over 20 years as a trainer and author, Ms. Lambert is a sought-after and respected voice in the practice and management of payroll issues. She has conducted open market training seminars on payroll issues across the United States as well as serving as an in-house trainer for businesses such as Sun Microsystems, Fox Studios, Disney, County of Riverside and the City of Hesperia.
This course will be beneficial to payroll professionals, human resources professionals, accounting professionals, finance professionals, business owners, legal professionals and anyone responsible for the compliance issues of a payroll department.
Date: Thursday, January 19, 2017 (8.30 AM- 4.30 PM) and Friday, January 20, 2017 (8.30 AM- 1.00 PM)
Location: Las Vegas, NV
Registration Cost: $1,299.00 per registration
Early bird discounts: For discounts on early registrations, please click here.
Register by phone: Please call our customer service specialists at +1-888-717-2436 or email to customercare(at)complianceonline(dot)com
For more information on ComplianceOnline or to browse through our trainings, please visit our website.
About ComplianceOnline
ComplianceOnline is a leading provider of regulatory compliance trainings for companies and professionals in regulated industries. ComplianceOnline has successfully trained over 35,000 professionals from 9,000 companies to comply with the requirements of regulatory agencies. ComplianceOnline is headquartered in Palo Alto, California and can be reached at http://www.complianceonline.com. ComplianceOnline is a MetricStream portal. MetricStream (http://www.metricstream.com) is a market leader in Enterprise-wide Governance, Risk, Compliance (GRC) and Quality Management Solutions for global corporations.
For more information please contact:
A Reuben Bernard
Associate Director - ComplianceOnline
2600 E Bayshore Rd
Palo Alto CA USA 94303
Phone - +1-650-238-9656 | +1-888-717-2436
Fax - 650-963-2556
Mail: reuben(atcomplianceonline(dot)com
Website: http://www.complianceonline.com