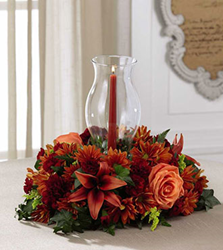 HAYMARKET, VA (PRWEB) November 09, 2016
While Thanksgiving is heralded for its cornucopias, turkey and pumpkin pie, the entire month of November is replete with themes of harvest and home, thoughtfulness and thanksgiving. People travel near and far to gather together with family and friends and indulge in bountiful meals, laughter, love and good times.
Rich, earthy colors of copper, rust, butterscotch, dusty browns and shades of marmalade and crimson dominate the landscape and home decor scenes. Fresh flowers are the perfect natural accent for every home and office. The floral designers, buyers and professionals at bloomstoday.com meticulously prepare for this time of year with bouquets and floral arrangements filled with exciting textures, shapes, colors and autumn touches.
The seasonal warmth of Thanksgiving is expressed by co-founder George Dukas when he relates: "We are not just a floral business, but a provider of sentimental expression." His family has more than a century in the floral business. "We prepare and send messages of love, gratitude and devotion," adds co-founder Don Mayer. "We understand that behind each order, there is emotion, and we recognize the importance of a quality product and on time delivery, as well as a supreme customer service experience."
Fresh flowers are the perfect hostess gift upon arrival at the front door. Fresh flowers are the perfect way to say: "I'm going to miss being with you this year." Fresh flowers are the perfect conduit for every host and hostess to express: "Welcome, we are happy to see you." Fresh flowers raise the bar on beauty, comfort, positive emotions and enhanced satisfaction with life in the moment.
Bloomstoday.com works tirelessly crafting Thanksgiving floral bouquets in a wide variety of special vases and centerpieces while hand writing notes of love, encouragement and thanksgiving to go with the delivery. Flowers rival sunsets, stars, sunrises, ocean views and baby animals for nature's finest. The big difference is that you can send long-lasting fresh flowers quickly and conveniently before, during and after Thanksgiving to show your love and gratitude.
The bloomstoday.com Thanksgiving Collection features many floral arrangements for different homes, work places and personalities. The common thread is the care and kindness on the phone or chat feature and the expertise behind every bouquet.