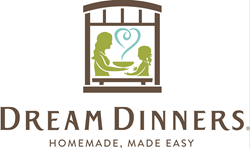 We get so busy during the holiday season that we lose sight of what the holidays are about—spending time with friends and family.
Snohomish, Wash. (PRWEB) November 07, 2016
The holidays will soon be upon us, and while your time with your kids and extended family can be a source of great excitement and fun, the stress of planning and entertaining can be overwhelming if you're not prepared to tackle the challenges of the season.
The originator of the meal assembly industry, Dream Dinners is dedicated to helping busy families spend more time together around the dinner table by allowing them to prepare wholesome home-cooked meals without the stress of shopping, chopping and prepping. As the busy holiday season approaches, Dream Dinners is sharing some of its easy tips for holiday entertaining that make the most of family time and lessen the stress of planning and prep:
1. Don't stress about the dinner table. Invite the kids to help with the table settings and decorations. Whether it's the place runner, the centerpiece, or even the nametags for each guest, they will love getting to be a part of the big day.
2. Spice up those family cookie recipes by adding a holiday twist like sprinkles, frosting, or adding peppermint bark into the mix.
3. Do a "recipe remix" and turn your favorite recipes into easy appetizers. Make your meatloaf recipe into meatballs, or try something new like skewering bite-sized pieces of your Dream Dinners' Herb Crusted Flank Steak.
4. Tackle some of the party prep work the night before, especially if you know you're going to be busy in the kitchen the next day. Labeling serving dishes or preparing your dining table in advance can save you more time than you think.
5. Invite the kids to plan an after-dinner activity. Whether it's listening to classic Christmas carols or letting them read a Christmas book like the "Polar Express" aloud, they will be excited to be in charge of something the whole family will enjoy.
6. If you're hosting a lot of family members consider creating a buffet table. This not only frees up table space for decorations, but it involves less prep work and clean up.
7. Invite the kids to be the "chef's assistant" in the kitchen. No matter how small their contribution, allowing them to help you prepare dinner will result in them feeling even more excited about the meal.
8. Create holiday conversation starters for family dinners. Have everyone around the table answer questions such as "What are you most thankful for?" or "What is your favorite holiday movie?"
"We get so busy during the holiday season that we lose sight of what the holidays are about—spending time with friends and family," said Darin Leonard, CEO of Dream Dinners. "It's Dream Dinners' goal to make dinnertime possible, so families can make quality time with each other a priority."
No matter how busy the holidays are, when families make the effort to spend more time together creating memories and less time stressing about planning and preparation, the payoff is priceless.
For more information about Dream Dinners, or to check out some of the current menu offerings, visit https://dreamdinners.com/.
ABOUT DREAM DINNERS:
Founded in 2002, Dream Dinners, Inc. helps busy moms get wholesome home-cooked meals on the dinner table. Guests choose from seasonal, rotating monthly menus and prepare the dinners in-store without the hassle of planning, shopping and chopping. Dream Dinners lays out the ingredients in an easy-to-follow format so guests can assemble a month's worth of meals in about an hour. A pioneer and leader of the meal assembly industry with 86 retail locations in 24 states, Dream Dinners is on a mission to grow great kids, and believes good things happen when families come together at the dinner table. Learn more at http://www.dreamdinners.com.