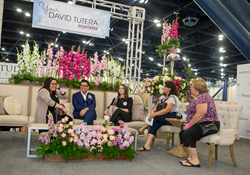 St. Paul, MN (PRWEB) November 11, 2016
The highly acclaimed multi-city wedding show, Your Wedding Experience presented by David Tutera recently wrapped its second successful year touring the country with it's larger-than-life wedding show, alongside hundreds of vendors, industry experts and celebrity guests. Since it's 2015 debut, Your Wedding Experience has received numerous accolades from couples and vendors alike, leading it to become one of the country's most talked about and followed wedding experiences to ever hit the bridal market. With its continued success and growth, Your Wedding Experience presented by David Tutera is excited to announce its return in 2017 with new show dates and two new cities added to the roster, which will include Northern New Jersey and Phoenix.
The one-of-a kind event, specifically tailored to engaged couples, was hosted by celebrity event planner, TV star and wedding extraordinaire David Tutera, and offered endless wedding inspiration, reputable industry experts and the best possible resources all under one roof. In 2016, 1,100 wedding industry exhibitors, sponsors and partners helped to create the ultimate experience for engaged couples to discover new ideas, find inspiration and gain more insight on how to plan the wedding of their dreams, while having had the opportunity to meet and do business with nearly 15,000 engaged buyers.
This year's Your Wedding Experience shows doubled in numbers from 2015, bringing together more than 2,000 brides, grooms, family, friends, wedding planners, industry professionals, local and national businesses, and media partners at each show. With a rapidly growing audience reach of over 3.5 Million through multiple social media and online platforms, it's no surprise that couples were ready to try it, plan it, book it and buy it at the 2016 Your Wedding Experience shows, with more than half of exhibitors successfully securing appointments, tours and/or client bookings on the spot.
Some of the attention-grabbing event highlights and interactive experiences this year included: celebrity meet and greets, the new David Tutera Experience stage and lounge where attendees could hang with Tutera and get photo opportunities, live band showcase, digital lounge, Custom Stations including a Nail Polish Bar, Fragrance Bar and (new) Bling Bar, a Ring Selfie station, cocktail lounge, 'Tips and Trends' sessions featuring special guest speakers, over-the-top Sweetheart Table designs judged by David Tutera. Each show also featured guest bloggers from top wedding blogs with a combined following of 407,774 and included Dress for the Wedding, The Budget Savvy Bride, Belle the Magazine and Pretty Pear Bride. Show coupons and grand prize giveaways at each show included, shopping sprees, sponsor gift cards, wedding and bridesmaid dress giveaways and even a wedding planning consultation with David Tutera himself, all totaling over $182,000.
Attendees were also invited to take a front row seat at the Wedding Catwalk fashion show hosted by David Tutera which featured over seventy looks at each show. The Nominate Your Fiancé contest named lucky grooms-to-be, (one winner also included an LGBT female) at each show to model formal wear on the Wedding Catwalk runway show, with front row VIP seats for the winner's fiancé and a chance to win a destination honeymoon prize.
Your Wedding Experience is also excited to announce its brand new Mobile App mobile app available on iTunes and Google Play offering an enhanced on-site show experience with interactive maps and show only specials. The app offers the latest wedding trends and resources including local vendor directory, real-time show navigation, information about prizes, features, photo opps and much more.
2017 Your Wedding Experience presented by David Tutera shows are already under way with confirmed dates in:

Philadelphia, PA – Sunday, February 12 at the Pennsylvania Convention Center
South Florida – Sunday, May 21 & October 8 at Greater Fort Lauderdale Broward County Convention Center
Phoenix, AZ (NEW)– Sunday, August 27 at the Phoenix Convention Center
Houston, TX – Sunday, September 17 at the George R. Brown Convention Center
North New Jersey (NEW) – Sunday, November 12 at the New Jersey Convention & Expo Center in Edison, NJ
Social Media: Facebook | Twitter | Pinterest | You Tube | Instagram | Blog
About "Your Wedding Experience presented by David Tutera"
Your Wedding Experience presented by David Tutera is a one-of-a kind event tailored to engaged couples, wedding planners and designers, offering endless wedding inspiration, reputable vendors and the best possible resources all under one roof. Your Wedding Experience presented by David Tutera has proudly partnered with the nationally recognized Bridal Guide, Modern Luxury, The Knot, Munaluchi Bride, Mon Cheri, State Farm, Crest 3D White, NFL Homegating, Hilton, Marriott, Kendra Scott, Invitations by Dawn, Aruba Tourism, Wolfgang Puck, Men's Wearhouse, Tag Heuer, Bloomingdales, Paul Mitchell and The Knot. For more information, please visit http://www.yourweddingexperience.com