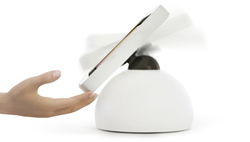 Our tablet enclosures, stands and kiosks were designed from the ground up to accommodate a wide variety of tablet devices
Waterloo, ON (PRWEB) November 08, 2016
"Our tablet enclosures, stands and kiosks were designed from the ground up to accommodate a wide variety of tablet devices and our continued support for the Microsoft Surface series of tablets, including the new Surface Pro 4 extends our commitment to our multi-tablet capabilities", says Iles Guran – Founder and Creative Director.
Armodilo's award-winning tablet enclosure styles will all support the Microsoft Surface Pro 4 immediately. The Armodilo Original line of tablet stands is a completely enclosed tablet display system utilizing Armodilo's Tablet Fit Kits™ consisting of four corner inserts and a tablet frame with various access options, making switching of similar sized tablets a breeze. Armodilo's Xero™ line of open-access tablet holders also support the Microsoft Surface Pro 4, providing the ability to create highly brandable and unique tablet mounting options.
Armodilo Display Solutions currently supports over 50 unique tablets including: the full line of Microsoft Surface tablets, the full line of Samsung Galaxy tablets and the complete line of Apple iPad tablets. Custom Tablet Fit Kit configurations are also available for tablets not listed for a minimal one-time setup fee of $49.
Visit http://www.armodilo.com for more information.
About Armodilo Display Solutions
Armodilo Display Solutions is a multiple award-winning tablet display manufacturer located in Ontario, Canada. With a variety of tablet display stands and accessories for trade show, event, retail and corporate markets, Armodilo sets itself apart by creating highly refined products for discerning brands around the world.
For more information about Armodilo, contact:
Iles Guran Founder & President
Armodilo Display Solutions
1-800-975-5946