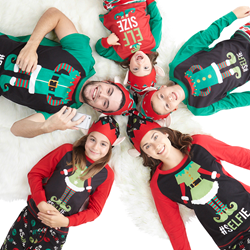 New York, NY (PRWEB) November 08, 2016
Holiday Cards and Holiday Mornings have a whole new uniform thanks to the launch of Jammin' Jammies. With four themed sets of comfy-cozy PJs available just in time for cold winter mornings, outfit the whole clan in matching or coordinating sets to capture the look of reindeer, elves and a gingerbread family!
Holiday photos have almost become a sport, coming off the page of the family Christmas card and into social media feeds everywhere! Coordinating PJs for your photos are an adorable and fun way to being the most "liked" family on the block.
The family pajama experience comes in individual Gingerbread House gift boxes, or you can choose a personalized Family-Size box (for $5). Each pajama also comes with a fun additional props like matching hats, coordinating glasses or cookie cutters.
Family Cookie Bake-Off – Host an old-fashioned bake-off, so you can wake up and smell the cookies on holiday mornings. Bearing slogans like "Official Cookie Maker", "Official Cookie Taster" and "That's How I Roll", these red and blue PJs are decorated with gingerbread cookies and even come with a Holiday cookie cutter (and one for the doggie, too)!
#FamilySELFie – But first… let's take a Family sELFie! Capture the vibes of Santa's little helpers and join the whole family for a Holiday Selfie with these cute Elf Jammies with elf eared sleep hats. You can head to bed in matching sleep sets and wake-up ready to capture the spirit of the season in a coordinated look for gift opening pictures!
Reindeer Games – Santa's BFF is the star of this collection of two piece sets. Oversized prop glasses with reindeer antlers and tiny Santa hats help finish the look to "Light it Up" for the holidays and take Instafamous photos.
Reindeer Games – Take reindeer games a step further with these cozy zip-front hooded onesies with 3-D antlers in soft microfleece and the whole family can get in on the fun while sharing their love for the holidays.
Jammin' Jammies is available just in time for the holiday season from ShopJamminJammies.com. With multiple options for toddlers (2T to 4T), youth (4-14), adults (S to XL) and even something for pets (S/M, M/L, L/XL), the best part of waking up is now about the Pajamas! Prices range from $54.99 for adult sizes, $34.99 for kids styles, $24.99 for toddler and $19.99 for pets.
###
Jammin' Jammies is a new line of matching family pajamas, with Holiday sets of PJs for the whole family (and Fido, too). Jammin' Jammies will help you channel your inner #SELFie, Gingerbread Baker or Reindeer so you can get more likes than Santa has toys in his toy shop. Jammin' Jammies is pajama fun for everyone, so follow us on Instagram @JamminJammies #jamminjammiesfan
Montreal-based The Kersheh Group designs and markets an extensive range of children's, women's, men's and licensed sleepwear products. With a diverse portfolio of quality brands, available throughout North America, they consistently meet the widest range of consumers' sleepwear / loungewear fashion needs. The Kersheh Group's family of brands includes its own brands such as the new Jelli Fish Kids, Sleep Riot, Vayola, Be Yourself, and Vayola Men's. In addition, The Kersheh Group also has trusted partnerships with licensors based on its ability to ensure brand integrity and enhance brand value. The Kersheh Group designs and markets a vast variety of entertainment brands with top studios such as Disney, Marvel, Mattel, Nickelodeon and Hit Entertainment.