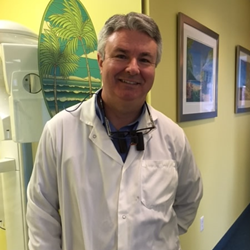 Cortland, OH (PRWEB) November 07, 2016
Dr. Joseph Bedich is a trusted dentist in Cortland, OH who has expanded his practice and now accepts new patients with missing teeth to receive an implant supported dentures consultation, with or without a referral. Dr. Bedich achieved Fellowship status in the Academy of Implant Dentistry and Diplomate status in the American Board of Oral Implantology/Implant Dentistry. He is proud to offer implant supported dentures as a treatment option for lost teeth.
Dr. Bedich is the lead dentist at his Cortland, OH practice and has committed more than 2,000 hours to continuing education in implant, cosmetic and other restorative dental care procedures. He offers implant supported dentures as an affordable and attractive treatment option for patients who have missing teeth. When patients need full replacement of their teeth in their upper or lower arches, Dr. Bedich highly recommends implant supported dentures because they are sturdier than dentures which are secured to the gums temporarily with paste. Implant supported dentures are also more affordable than placing single dental implants for each lost tooth in an entire arch.
A common and unfortunate side effect of lost teeth is degradation of the jaw bone directly below the empty tooth sockets. Jaw bone degradation can lead to tooth loss in remaining teeth and a sunken facial appearance. Implant supported dentures are secured using dental implants which are strategically placed in the jaw bone and each implant is designed using titanium which bonds with the surrounding bone. Placement of implants not only offer unrivaled stability, but they also stimulate the jaw bone and prevent degradation.
Patients with missing teeth who need full arch restoration services from an experienced dentist in Cortland, OH, are encouraged to meet with Dr. Bedich. After a thorough examination, Dr. Bedich can recommend a unique treatment plan, which may include implant supported dentures. Patients are invited to call The Center For Progressive Dentistry at 330-615-1598 to schedule an appointment.
About the Doctor
Dr. Joseph D. Bedich is a general dentist in Cortland, OH offering personalized dental care to patients. Dr. Bedich understands the importance of learning the most cutting-edge techniques, which is why he has taken over 2,000 hours of continuing education in a wide variety of services including sedation, implant dentistry, sleep apnea, cosmetic dentistry and head and neck pain management. To learn more about Dr. Bedich or the services he offers, visit his website at http://www.adazzlingsmile.com or call his office at (330) 615-1598 to schedule an appointment.