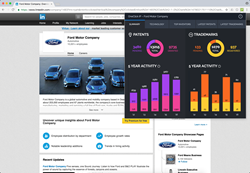 Patents and trademarks contain important clues about what new products and technology areas a company is exploring. We want to make this information easily accessible to all users, not just those with experience of working with intellectual property.
London, UK (PRWEB) November 08, 2016
Every company has competitors. Every. Single. Company.
Monitoring and tracking those competitors is the responsibility of all company employees, because competitor insight benefits almost every aspect of business strategy. Companies that can anticipate what their competitors intend to do, and the products they are planning to launch, rather than simply watching and reacting, will find themselves in a position of strength.
But short of pure guesswork, telepathy, or having insider knowledge, how can companies predict their competitors' next innovation?
Like the mystery of the magician pulling a white rabbit from a hat, the answer is often hidden in plain sight. Patents and trademarks are detailed disclosures of the discoveries, inventions, product names, and designs a company wants to protect. Patents and trademarks are public data, available for all to access and inspect – in fact, that's how the system works.
Inventors agree to disclose their invention, and pay a fee, in exchange for a fixed period of protection to allow them to commercially exploit their idea. Because the patent system works on a "first to file" basis (giving credit to the first person to register an idea, rather than the first to invent it), patent documents are often the best way of finding out what new products and product improvements your competitors are working on, long before they appear anywhere else.
The challenge is that patents are legal documents. The format of patents, as well as the language they are written in, and the way they are cataloged by international patent offices, makes it extremely difficult and time-consuming for anyone who is not well versed in intellectual property law to find – and then interrogate – the information in any useful way.
That's why PatSnap is working hard to make to make innovation data easily accessible across the enterprise. Today PatSnap launched a free tool to make competitor trademark and patent analysis accessible to everyone – the OneClick IP Chrome extension.
OneClick IP by PatSnap is the fastest way to get a snapshot of the intellectual property of any company without leaving your web browser. Anyone can quickly find the key technology areas a company is focusing on, their top inventors by number of patents published, and details of their latest trademark and patent filings. No patent or trademark searching experience is required – simply navigate to the LinkedIn or Crunchbase page of the company to be analyzed, and click on the OneClick IP logo.
About PatSnap
PatSnap is the leading provider of global patent and trademark analysis and workflow tools and one of Europe's fastest-growing B2B SaaS companies. Founded in 2007, with over 2500 clients worldwide, PatSnap helps companies including IBM, Vodafone, NASA, and MIT to accelerate their innovation by taking a strategic approach to intellectual property.
PatSnap Website