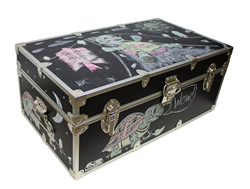 We're proud of our Chalkboard Trunk and happy to donate them to bring even a little more fun to this great festival.
Boyd, WI (PRWEB) November 09, 2016
All across the country, all throughout the year, community events are held in celebration of chalk as a medium of art. The artists put their temporary masterpieces down right at your feet, using the pavement as their canvases. Often awe-inspiring, these events make for great attractions as they offer treat after treat for the eye.
Artists who live on the island of Venice, Florida are likely already aware of the incredibly popular event being held at the Venice Airport Fairgrounds—'The 2016 Chalk Festival', the four-day festival that begins November 11. This fun and chalky festival is known for being the most notable pavement event the world over, where the road transforms into a collection of eye-catching chalk creations.
Many sponsors get in on this event, contributing this and that—whatever they can. Having recently come out with their Chalkboard Trunk, summer camp outfitter, Everything Summer Camp has joined the list of sponsors for this year. Generously donating two of their Chalkboard Trunks to add to the prize pool of this year's Chalk Festival event, Everything Summer Camp is happy to be a part of the fun.
Introducing the only camp trunk that offers a blank canvas on which to create unlimited works of art, the entire Chalkboard Trunk is a cubed chalkboard! This unconventional Camp Trunk is made under the same, rugged construction as all other C&N Camp Trunks, except that they swap out the steel exterior for a durable chalkboard laminate which is similar to chalkboard paint.
Campers can use the 16-piece set of standard chalk that's included in all Chalkboard Camp Trunks to get started on their artistic creations. Chalk markers (not included) work well on these trunks too and will wipe clean just as easily as the standard chalk. A damp cloth gets this trunk right back to a blank canvas. "We're proud of our Chalkboard Trunk and happy to donate them to bring even a little more fun to this great festival," says the president of Everything Summer Camp, Ed Holand.
Yes, the likes of this trunk have surely never been seen before—destined to be a festival favorite this year! So get excited and check out these amazing new Chalkboard Camp Trunks at the Everything Summer Camp website.
About Everything Summer Camp
Everything Summer Camp has been helping kids get ready for summer camp since 1987. Their wide selection of camping gear includes camp trunks and other camping supplies. Top selling items include water bottles, cot-sized bedding, rain jackets, insect repellent, iron on labels, and more. Known for their customer service and fast shipping Everything Summer Camp is recommended by more camps than any other camp outfitter.
Visit http://www.EverythingSummerCamp.com to learn more about camp footlockers, name labels, duffel bags, and camping supplies.